Ex DIA Chief Rebukes US Foreign Policy; Woolsey Named Chancellor of World Politics Institute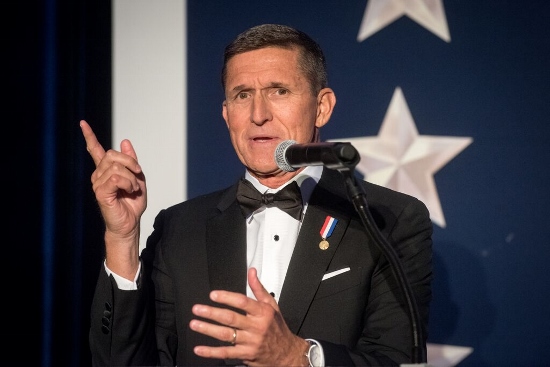 In a fire and brimstone talk at The Institute of World Politics' silver anniversary gala and chancellor's dinner, retired (Army) Lt. Gen. Michael T. Flynn, former director of the Defense Intelligence Agency (DIA), lambasted the Obama Administration for a "floundering … no one is in charge" foreign policy.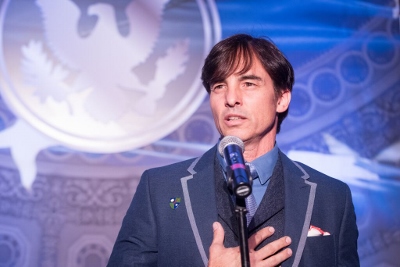 "Mr. President, a few drone strikes do not constitute a strategy," Flynn said of the U.S. policy in the troubled Middle East. "Let's win for a change, instead of simply participating in this perpetual conflict. Develop a winning strategy and put a winner in charge of it. Take the fight to the enemy on every single level that exists.
"Let's face it, right now, we're floundering and we're losing…..Taking our deflated ball and going home won't work." But on difficult international issues, he said, "don't hold your breath if you're waiting on this administration to make a decision."
The next administration, he said, will face enormous global policy challenges; "we [must] ask potential presidents for their long-term vision for our country."
Currently, said Flynn, "no one is in charge; our interagency process is lethargic and slow -- and that is being kind.
"Let's face it: the Russians have stolen the march on us. They identified a seam, and in their very short decision-making cycle, moved fast to close it. We have done a terrible job of identifying their unstated red lines and the imminent fall of Assad is obviously one of them. Another was the near eradication of their eastern Ukrainian enclaves, leading to direct…military intervention."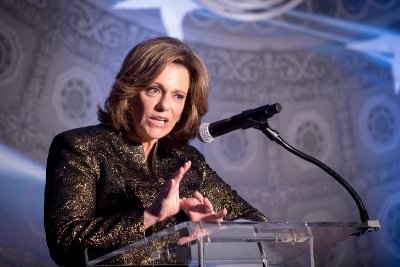 His pointed criticism of the current administration came in the keynote speech at IWP's dinner, which drew more than 420 ambassadors and diplomats, intelligence personnel, defense and foreign policy experts, students, and educators to The Ritz-Carlton in Pentagon City on Wednesday night.
The occasion coincided with the announcement that former CIA director R. James Woolsey Jr. has been elected by the board to serve as the first chancellor of the Institute, a preeminent graduate school in Washington.
Woolsey headed the CIA from Feb. 5, 1993 until Jan. 10, 1995. He held a variety of government positions in the 1970s and 1980s, including Under Secretary of the Navy from 1977 to 1979. In the 1980s, he was involved in treaty negotiations with the Soviet Union. A Phi Beta Kappa graduate from Stanford University, he has an M.A. from Oxford University where he was a Rhodes Scholar, and a law degree from Yale.
Fox News national security analyst KT McFarland, who held national security posts in the Nixon, Ford and Reagan administrations, was master of ceremonies. She introduced performer Keni Thomas, a Nashville country singer and former U.S. Army Ranger. As a member of the Bravo Company of the 3rd Ranger Battalion, Sgt. Thomas was part of the military operation recounted in the book and movie Black Hawk Down. Thomas sang his song "Hold the Line," which was featured in the 2014 documentary, The Hornet's Nest, which tells the story of an elite group of U.S. troops sent on a dangerous mission into Afghanistan.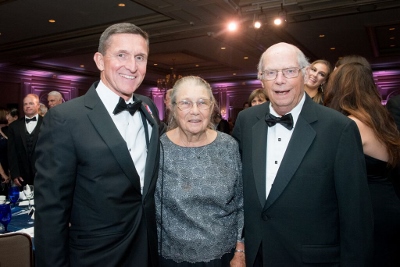 In her remarks, McFarland said, "Today's world is a confusing and complicated place and that's where the IWP continues to fill the vacuum of leadership….It's the only academic institution dedicated to teaching all the arts of statecraft including military strategy, the art of diplomacy, public diplomacy, opinion formation, strategic influence, intelligence, counterintelligence, economic strategy and moral leadership."
Since its beginning, the IWP has grown into a premier graduate school dedicated to developing new generations of American leaders. Key supporters are political activists Mary and Terry Kohler of Brule, Wisconsin, who were co-chairs of the gala.
John Lenczowski, IWP founder and president, said its mission is to "teach our students to see the world as it really is rather than the way they wish it to be…. What makes us even more unique is our focus on moral leadership and applied ethics. Since we teach the instruments of power, and since power can be abused, we want our graduates to exercise it responsibly, prudently, and ethically."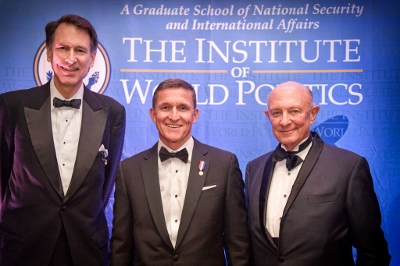 Among notables at the dinner was former FBI and CIA director William Webster.
IWP's campus is in downtown Washington, DC. IWP has launched a campaign to raise $10,250,000 -- of which $4.5 million has been secured -- for expansion of the student body and curriculum. The goal is to raise the balance by July 30, 2016.