Everybody Happy: MLK Library Stays Open on Sundays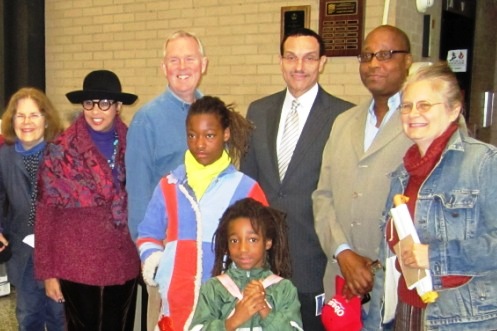 Sunday was a day for celebration downtown at the Martin Luther King Library. Thanks to the last minute efforts of Mayor Vincent Gray, Ward 6 Councilmember Tommy Wells and others, the money was found to keep the District's central open on Sundays. The two Wilson Building officials were in the MLK lobby to mark the occasion and were joined by library advocates, library officials, various news media and, of course, regular Sunday patrons, including Redskin fans who came to watch the game.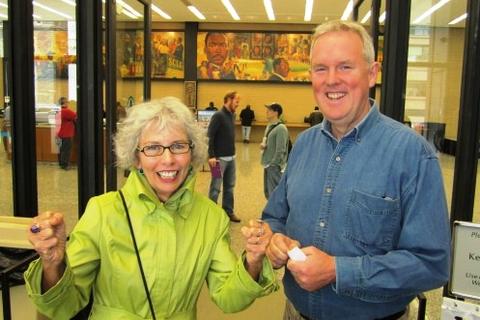 "It's fantastic," said Chief Librarian Ginnie Cooper. While this reflected the immediate enthusiasm in the MLK in the lobby, the future of a library system under budget cut stress of was also on people's minds. Wells, as the new chairman of the City Council committee with oversight over libraries, is looking forward to restoring the $10 million in operating funds that has been cut over the last several years. "Libraries are a platform for improving the quality of life in our city and empowering people," he said.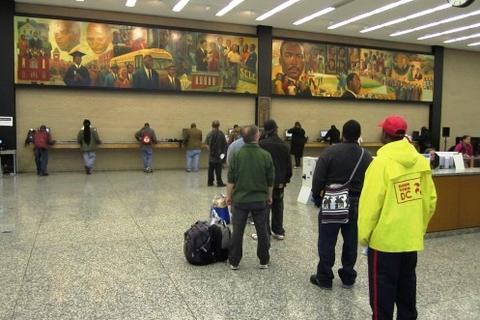 Robin Diener of the Library Renaissance Project pointed to the citywide need for more hours. "This is a great first step," she said. "Now we need to get the neighborhood libraries open on Sundays also." Other library advocates in the lobby included Wendy Blair of Capitol Hill, Abigail Nichols of Dupont Circle, Robert Brannum of the D.C. Federation of Civic Associations and Joe Harris of Woodridge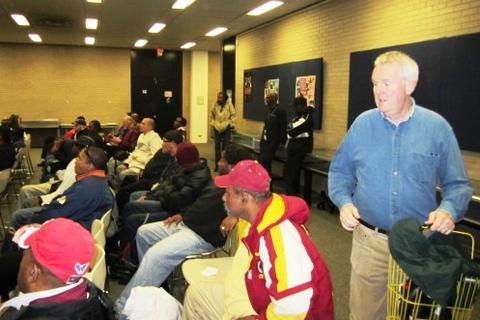 Mayor Gray in a written statement stressed the library-education-jobs connection. "The library plays an important role in supporting education for students of all ages and providing job search and career assistance," Gray said. "We are pleased we were able to identify funding to keep the Martin Luther King Jr. Memorial Library open on Sundays."
After the event, Wells joined the Redskins fans on the second floor to cheer them to victory over the Rams and a 3-and-1 record.