Evans warns of budget gimmicks after NYC visit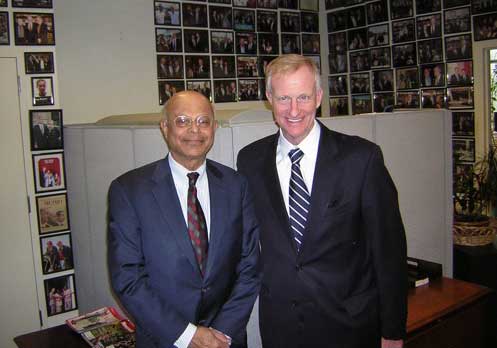 Councilmember Jack Evans and District leaders traveled to New York last week to make a favorable impression on Wall Street before it sets the city's bond rating following a December report from Standard and Poor's warning that the rating could drop in the future if the city's deficit is not brought under control.
Evans said the meetings highlighted the risk of the city's looming deficit, which some have estimated as high as $600 million. "Once again, the bond rating agencies, while confirming the District's financial health, have expressed concerns over using our fund balance to address the deficit," Evans warned. "We have pledged not to dip into our fund balance or use similar gimmicks, but rather match our revenues with expenditures in balancing the budget."
By "gimmicks," Evans was referring to Mayor Adrian Fenty's use of $200 million last year to fund operating expenses, a move that worried bond raters. The reserve has dipped from $1.6 billion to below $890 million, Evans said. In the next fiscal year, it will dip below $800 million.
"There is arguably nothing more important than the bond rating," Evans told The Georgetown Dish. "It sets the price of borrowing for the District." Each year the city borrows $350 million on a short-term basis to fund operations until tax revenues are used to repay the loans. The cost of that other borrowing by the District is determined by the bond rating. Wall Street would like to see the reserve at $1 billion, as $600 million is committed. Ownership of a hospital also worries The Street.
Evans added that the rating agencies "will look to Mayor Gray's budget submission on April 1, as well as council action thereafter, as they determine the District's future bond rating."
At a meeting in Evans' office last week, D.C. Chief Financial Officer Natwar M. Gandhi said Evans plays a key role in the annual Wall Street meetings. "Jack does the heavy lifting. He represents the city very well," Gandhi said.
Evans returned the compliment to the one-time protege of former CFO and Mayor Anthony Williams. "He gives us credibility," Evans said of Gandhi.
Evans, Chairman of the Council's finance committee, joined Mayor Vincent Gray, Council Chairman Kwame Brown and Gandhi in meetings with Standard & Poors, Moody's and Fitch, in representing the city to financial leaders, as he has for years.
As the District faces tax increases and or spending cuts to plug this year's financial gap, Brown told the Washington Examiner, "Although revenue enhancements must be considered," he said, "I will start first with requiring cuts in areas where we are overspending, and then put in place internal controls to collect the millions of dollars owed to the District in federal reimbursements to help fill the budget gap."