Evans uses family experience to settle redistricting debate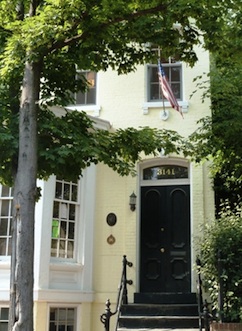 Georgetown resident Councilmember Jack Evans (Ward 2), co-chair of the Council's Redistricting Subcommittee, has had to make last-minute changes to the redistricting plan he and co-chair At-large Councilmember Michael Brown and committee member At-large Councilmember Phil Mendelson submitted to colleagues.
While Jack surely didn't love Councilmember Tommy Wells' (Ward 6) Tweet that Jack gerrymandered the new boundaries of Ward 2 in the draft plan in order to rid it of "any area that isn't lily white and filthy rich," Jack, a skilled legislator who is wise enough not to hold grudges, ended up making significant changes that Wells wanted.
Evans knows that redistricting, like any change of location, can cause tension. After marrying Michele Sievers last year, Evans has had to redistrict his own, expanded family. Sievers and her children moved from Spring Valley to 33rd Street in Georgetown, a few blocks away from Evans' townhouse on P Street, last year, while Evans is digging out and refinishing his basement so that all six kids, two parents and a dog can squeeze in.
"Redistricting involves change and is most often difficult because you're finding yourself in new circumstances and it requires adjustment," Evans told The Georgetown Dish. "But at the end of the day, if you work on it and embrace it, it can work out just fine."