Evans sounds alarm on D.C. budget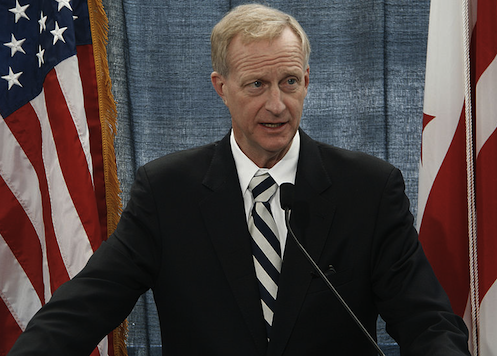 Amid growing concern that the District's finances are headed for disaster, D.C. Council member Jack Evans voted against the budget for the first time in his 20 years on the Council -- the only Council member to vote against the budget when it passed last week.
But Evans, the chairman of the Committee on Finance and Revenue, does have a powerful ally -- The Washington Post. A Friday editorial headlined "D.C.'s Crash-and-Burn Budget" blamed Mayor Adrian Fenty and Council Chair cum Mayoral candidate Vincent Gray.
"Mr. Fenty submitted a flawed spending plan," The Post wrote. "Mr. Gray made it marginally worse…Instead of slowing spending, they opted to borrow more money, extend the reach of the sales tax and engage in some wishful thinking about taxing nonresident city government workers."
"When you entertain the notion of a commuter tax," chimed in Council Chair candidate Vincent Orange on the D.C. Politics Hour with Kojo Nnamdi and NBC4's Tom Sherwood, "You're playing games."
Evans, however, was praised for sounding the fiscal alarm: "It's inevitable, as Mr. Evans told his colleagues, that they… will have to confront the city's fiscal problems," the Post wrote. By "postponing that task, they only make it more difficult." Saturday, Pulitzer Prize-winning columnist Colbert I. King was -- unusually -- in Jack's corner. "May 26, 2010 will go down as the most politically craven day in modern D.C. government history," he wrote. "I wouldn't have believed it if I hadn't seen it with my own eyes." The Council's approval of the Mayor's $5.3 billion 2011 budget relies on the "same irresponsible borrowing and spending that caused Congress to step in to rescue us in the '90s," he said in reference to a return of the Control Board. He concluded, "If the election were held today, all but Evans should go down the tubes." Evans points out that the District government has been increasing its spending by $200 t0 300 million a year, financing the increased spending by dipping into it reserves (down by $500 billion over the last three years), borrowing and other short-term measures. "As goofy as he can be, he is no doubt firmly in charge of the facts of the finances of this city," NBC4's Sherwood said.