Evans says more public input needed on Gray nominations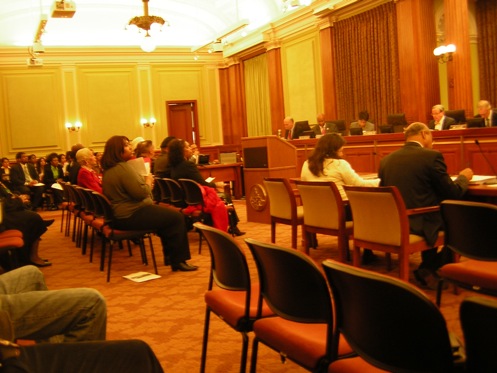 Councilmember Jack Evans said he will ask the D.C. Council to postpone consideration Tuesday of two fast-tracked appointments to one of the most powerful land-use regulatory bodies in District government due to strong opposition from constituents and good-government advocates.
The mayoral appointees to the Board of Zoning Adjustment include Lloyd J. Jordan -- who served as the campaign attorney for Mayor Vincent Gray and was an incorporator last year, along with Gray's embattled close adviser Lorraine Green, of the DC One City Fund -- and Nicole Sorg, a senior executive of an architectural and planning firm whose clients regularly have business before the BZA.
Evans said the nominations have moved "far too quickly" to allow adequate public review and comment. Jordan's nomination was received by the Council on March 2. It was the subject of a hearing a week later on March 9 and is scheduled for final action by the full Council Tuesday. The confirmation process normally allows at least several weeks for public testimony to be considered.
"I've gotten numerous emails asking that the confirmation vote be postponed so that we can get more public input," Evans told The Georgetown Dish. "I'm inclined to agree."
Jordan has held many governmental positions, including an appointment by Mayor Marion Barry and confirmation by the Control Board to be director of the Department of Consumer and Regulatory Affairs.
Some community activists called Jordan a "political insider" with with worrisome connections. "We need a neighborhood person who will represent citizens and residents," Dupont Circle Citizens Association president Robin Diener said. "The Council should not rush this appointment."
In addition to her current role as Vice Chairperson of the BZA, Sorg is Director of Business Development of Sorg Architects, a firm owned by her mother Suman Sorg, which has won numerous city contracts from agencies including the Department of Parks and Recreation, DCPS, the Office of Public Education Facilities Management, the Department of Housing and Community Development, and the Department of Real Estate Services. Several private organizations listed on the firm's website as clients of Sorg are also subject to BZA decisionmaking, including American University, Howard University, and Clark Realty, a real estate development, construction and property management company affiliated with Clark Construction LLP.