Evans Pushes Extended Lease for Art Center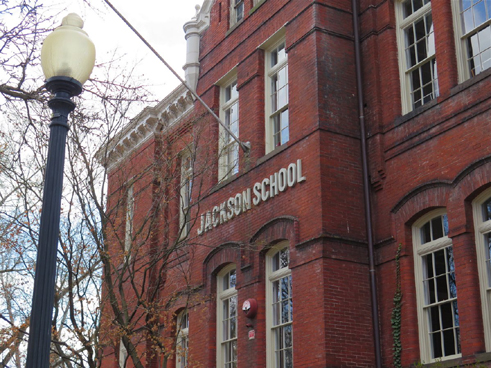 Jackson Art Center has support from Ward 2 D.C. Council member Jack Evans in hopes of staying at its Georgetown building long past next year, when its lease with the city is set to expire.
On March 2, Evans introduced a bill to renew the lease for up to 20 years — moving ahead of Mayor Muriel Bowser's office, which hasn't yet begun negotiations with the nonprofit. The art center has occupied the historic Jackson School building at 3050 R St. NW since 1980 and currently pays $145,000 in annual rent.
The center has signed two short-term lease extensions in recent years, most recently in 2015. The large Georgetown building has been eyed at times by developers, making users and neighbors anxious at the possible loss of a community arts space.
The mayor supports a long-term extension of the lease, D.C. Department of General Services general counsel Camille Sabbakhan told the council's Committee on Business and Economic Development at a hearing last Wednesday. She asked the committee to hold off on moving the bill because the mayor is prepared to submit her own legislation that is "very similar to the bill currently presented" after discussions with Jackson Art Center.
But Evans said he wants faster progress.
"I am anxious to get this done," Evans told Sabbakhan. "It's very important. I think we can just do it, knock it off."
Sabbakhan said the rental fee is one of the top issues up for negotiation.
A dozen community members attended the hearing to endorse the art center and support a long-term lease. Karen Ruckman, president of Jackson's board of directors, said she hopes to remain in the building for many years to come. Several residents pointed out the dwindling number of affordable dedicated arts spaces in the city.
"The Jackson Art Center is a place of refuge and quiet productivity for more than 40 practicing artists," testified Barbara Downs, an instructor at the center and a former Citizens Association of Georgetown president.
Members of the center pay a $45 membership fee and an additional monthly fee for renting their studios, about $21 per square foot. Evans said he would like the city to direct more funding for upgrading equipment and other needs, likely through grants from the Commission on the Arts and Humanities.
Evans' Ward 5 colleague Kenyan McDuffie, who chairs the business committee, mentioned during the hearing that he'd like to see the center expand outreach of its programs for residents across the District. Ruckman said that the center has open studio time twice a year for the public and also holds workshops for children citywide through partnerships with other organizations.
A few hours after the hearing, Evans told Georgetown residents at a neighborhood meeting that it went "very, very well."
"That is such a real gem in our community," Evans said. "It's really important that we keep it there and continue to support the arts."
Staff writer Mark Lieberman contributed to this report.
This article appears in the July 5 issue of The Georgetown Current newspaper.