Evans Bill Could Help Assist Blues Alley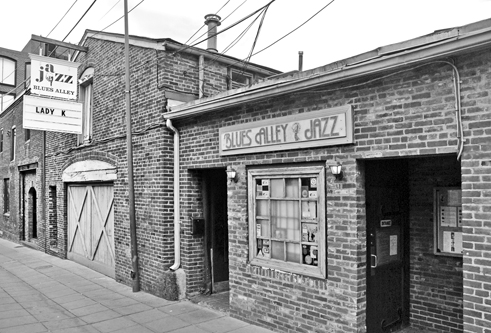 By Elizabeth WienerCurrent Staff Writer
Helping "historic music cultural institutions" survive, by offering public funds or a tax break? D.C. has done so with the Lincoln Theatre and the Howard. And now a bill introduced by Ward 2 D.C. Council member Jack Evans is aimed at easing the money woes of Blues Alley.
The bill was "provided" by Blues Alley, the owner of the venerable Georgetown jazz club said at a hearing last week, but takes a "broad-brush approach." Owner Harry Schnipper was one of two witnesses to testify on the measure, which received a fairly neutral review from an aide to Chief Financial Officer Natwar Gandhi, the city's budget watchdog.
The bill would, in essence, exempt "historic music cultural institutions" from real property taxes for 10 years, and from any transfer or deed recordation taxes, if they purchase or lease space with the "goal of expanding public live music and cultural entertainment and employment opportunities" in the District.
There are many caveats. To be eligible, for example, the beneficiary would have had to operate for at least 45 years here, hosting a minimum of 100 live performances a year. And the expansion must occur within a year before or within five years after the bill takes effect. At least 50 percent of the venue's new hires must be District residents. And the total tax abatement — for all who qualify — would be no more than $2 million.
Schnipper of Blues Alley offered a compelling case for tax relief.
"America's oldest continuing jazz supper club" opened in 1965 in a former horse barn off Wisconsin Avenue and prospered in its early years, he said. Then in the 1970s, with the rise of nonprofit competition — the Smithsonian, the Kennedy Center and the Washington Performing Arts Society, all presenting jazz among other offerings — "suddenly we became an anomaly."
Now, he said, most of his competitors get "preferential tax rates." And with the rising cost of rent and property taxes in Georgetown, the survival of Blues Alley is under threat. "Does Blues Alley have the ability to compete? I don't know," Schnipper told Evans' Committee on Finance and Revenue. He cited the closings of Childe Harold, the Cellar Door, the Bayou and other commercial music venues in D.C. "Once a jazz club goes away, it never comes back."
Beyond its contributions to Georgetown's economy and to local hotels where visiting artists stay, Schnipper said his firm also has a nonprofit arm, offering a summer camp, a year-round youth orchestra, and programs in public schools.
Schnipper did not immediately respond to a request for comment on his future plans. But according to the Washington Business Journal, he's been offered a chance to buy the Blues Alley building, which sits in an alley of the same name off Wisconsin Avenue.
Schnipper, the Business Journal reported in April, has also considered taking space at CityCenter DC and other locations, and was an active bidder to run the city-owned Lincoln Theatre on U Street. The theater's new operator has been selected but not announced.
He's also said — and many patrons agree — that he would like to remain in Georgetown. Schnipper testified that when he approached his council member for help, "Evans said, 'I can't help you with the lease, but can help with taxes.'"
Evans, who lives in Georgetown, spoke only briefly at last week's hearing, saying he would move the bill at the council's next session. "It's not specifically written for Blues Alley, but could be helpful to keep Blues Alley in Georgetown. Blues Alley is known worldwide," he said. "Because [the area] is becoming so prosperous, let's not drive out what makes us who we are."
Betsy Keeler, the chief financial officer's deputy director for economic development financing, said she couldn't determine whether tax relief is needed "because no historic music institution is specifically identified in the bill." The office also hasn't determined how much the bill would cost the city. "But," Keeler said, "because the legislation caps it at $2 million, that would be the maximum fiscal impact."
Ed Lazere of the liberal-leaning DC Fiscal Policy Institute noted in an interview that the District has given tax breaks to other private firms, most recently high-tech firms like Living Social, without directly naming them in legislation that grants the abatements.
But, he said, "we think it's deceptive to provide targeted tax breaks for individual businesses" without naming them. "If the tax break is intended for Blues Alley, and everyone understands that, then it should say that. If they're really struggling, we can evaluate that. But that would be more honest," Lazere said.
This article appears in the May 15 issue of The Georgetown Current newspaper.