Escape to Alhambra
Why does the onset of October always feel like a Category 3 hurricane? With the return of school, traffic, and over-commitment, and holidays just around the corner it's hard not to feel buffeted by forces beyond our control. This October is more chaotic than usual: Political upheaval, refugees, market "vol", and, yes, even a hurricane brewing in the Atlantic. Ah, to escape to somewhere peaceful, bereft of wifi, cable news, and deluge.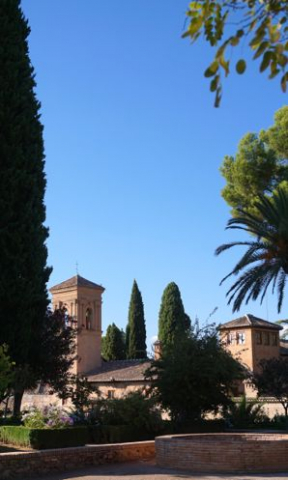 True to form, my perfect escape would be found in a garden, where fragrance, sound, color, and beauty would obscure the swirl of reality. And I know just the garden. If I could escape, I would check into the Parador San Francisco, a hotel in the heart of the Alhambra in the hills above Granada, Spain.
I have wanted to visit the Alhambra since attending a lecture on great garden design years ago. Moorish rulers began constructing palaces and gardens within its walls in the 1300's, and after their defeat in 1492 by Isabella and Ferdinand, Catholic monarchs built a new palace and more gardens.
It was a dream come true, then, to be there last month. Even a brief, two-hour tour with a pushy guide was sufficient to see that despite having been intermittently built, neglected, revised, and restored over the past 800 years, the Alhambra epitomizes good garden design. As my friend and fellow garden designer Katia Goffin often reminds me, "A garden should be a haven – serene. It is almost like a philosophy regarding life". And that is exactly what Alhambra is: An ideal composition of architecture, water, color, seating, walks, plants, shade and light that conjure a sense of serenity and stillness, inspite of an impatient tour guide.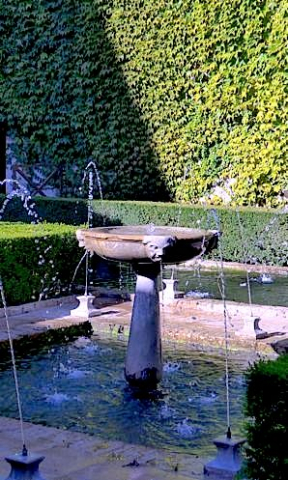 We started with the Generalife, originally a hunting lodge that was converted to a palace with garden courtyards in the 1300's. Any guidebook will tell you that the Arabic name "Generalife" probably means "The Garden of the Architect". The real meaning of Generalife could just as easily be "The Garden of the Garden Architect" because its' gardens' lush tranquility is inextricably integrated with the architecture of the buildings that surround them. It would take days to truly comprehend how finely balanced its infinite details are, hence the lure of the parador. I would love to wake up early in the morning and leisurely walk its grounds before the madding crowds materialize and to walk them again in the evening beneath a starry sky, long after the crowds have disappeared.
The Generalife's main garden is the Patio de la Acequia, a beautiful courtyard featuring a long reflecting pool lined with jets of water that arc up and audibly splash, making a musical watery hum. The pool is bordered by profusely planted flowerbeds that are restrained by sharply clipped myrtle hedges while small pruned trees and potted boxwoods provide height. Walkways invite visitors to linger in either sunlight or shade and I found it easy to imagine the Generalife's long-gone inhabitants lingering by windows or in the open arches of the gallery, attracted by the courtyard's exquisite sounds and floral splendor.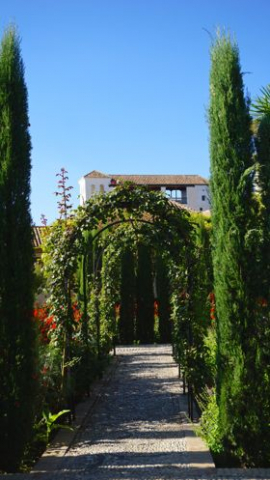 Incredibly, the Jardin de la Soultana, just outside the fabulously ornate Royal Bedroom (Sala Regia) is even more stunning: Would that I could transport it to my garden! At its heart is a delicately carved marble fountain shaped like a birdbath and set in a square pool amidst myriad spouts of water that constantly reflect and refract shimmering light. Square beds of red roses and the ubiquitous clipped myrtle lie on either side and all three are surrounded by rectangular pools of water punctuated by still more jets of glittering water and bordered by perfectly maintained hedges. Ivy drapes the brick and stucco walls, and an open, two-story walkway borders one end, scented breezes wafting through its arched windows. An enormous cypress whose ancient trunk is held together by bands of steel, throws off the symmetry of the courtyard just slightly.
It is in this garden, legend says, that the Sultana met her lover whose ill-fated family was subsequently murdered in retribution by the Sultan upon hearing of his wife's infidelity. I could see how lovers might suppose their whispers were rendered indistinguishable by the murmuring water.
Throughout the rest of the gardens, walks are lined with towering cypresses that lead the eye heavenward, and hedges are pruned into archways that beckon you to enter the next garden room.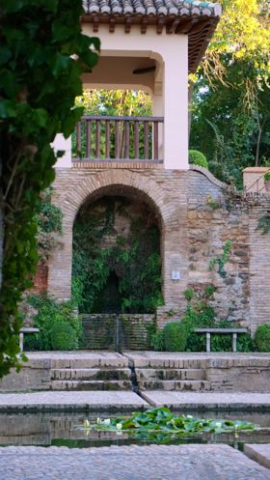 Flowerbeds are vividly planted with scarlet salvias, blue ageratum, orange and yellow Mexican daisies, and pink roses. Intricate patterns are set in the walkways, comprised of small stones in shades of gray, and that attract your eye downward. Bowls of burbling water, rills of still water, water flowing from carved spouts, and reflecting pools are ever present. Courtyards with bold geometric planting beds and others with small simple plantingsare interspersed between palace walls and inner sanctums. Series of metal arches reminiscent of Giverny are placed over walkways and are covered with roses and oleander. Brick pillared pergolas supporting vine shrouded wooden beams form wide, shady outdoor hallways, a contrast from brilliant sunlight. Open walkways supported by stucco arches and pillars link building to garden to building.
In all, every detail in each garden room complements the hardscape that surrounds it, and no detail feels out of place. It seemed to me that this is what we all should strive for in our own gardens – a balanced, symbiotic connection between home (inside as well as out) and garden. I felt myself slowing involuntarily and even stopping, to gaze and admire. I longed to tarry on one of the benches but the guide was unyielding.
Yes, the Alhambra is the place to which I would escape. There is undoubtedly both wifi and cable at the parador, but they would be easy enough to avoid. The hard part would re-entering the real world. Perhaps they need a resident garden writer.…