ENO Wine Bar Opening Soon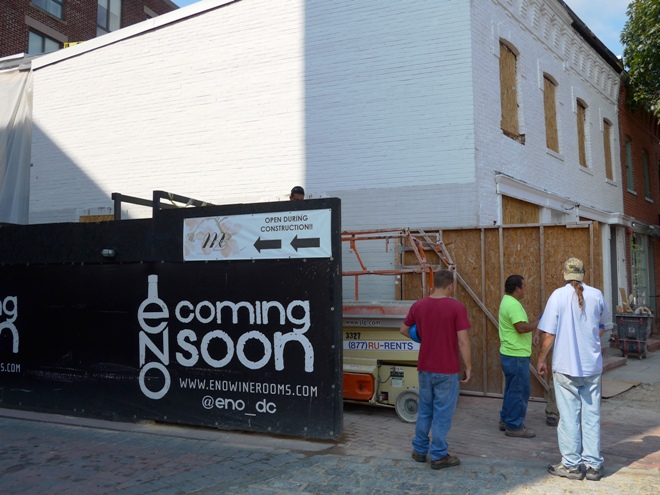 ENO, a new Georgetown wine bar next to the Four Seasons Hotel is slated to open in September. ENO has five other locations around the country (two in Chicago, one each in San Francisco, San Diego, and Half Moon Bay, CA) but this one will be the company's first on the East Coast.
Offering guests a curated selection of hundreds of wines by the glass from both the Old World and New World; approximately half of the bottles will be priced under $50, ENO will also feature 50 wines by the glass, eight on tap, with prices starting at $9.
The growing local wine scene will be well represented in ENO's offerings, showcasing several Virginia wineries including King Family Vineyards, Paradise Springs Winery and Barboursville Vineyards. ENO's list will also include a series of private labels made by them from the initial step of barrel selection to the final blend, including two wines made in partnership with Dusted Valley in Walla Walla, Washington - "Columbeaux" and "GSM."
ENO's commitment to supporting local producers extends to food as well. Selections will include charcuterie from from Stachowski's Market in Georgetown, chocolate truffles from Virginia confectioner Gearharts and cheeses from Calkins Creamery in Pennsylvania and Cherry Glenn Goat Cheese Co. in Maryland.
Visits from artisanal producers, including local vintners, cheese makers and chocolatiers, will be a regular occurrence at ENO. Dubbed "ENO-versity", these casual-yet-informative tasting sessions will allow guests to brush up on array of topics from female winemakers to French varietals and give them access to featured partner artisans.
ENO is located at 2810 Pennsylvania Avenue.