Ellington's Ballooning Cost Sparks D.C. Audit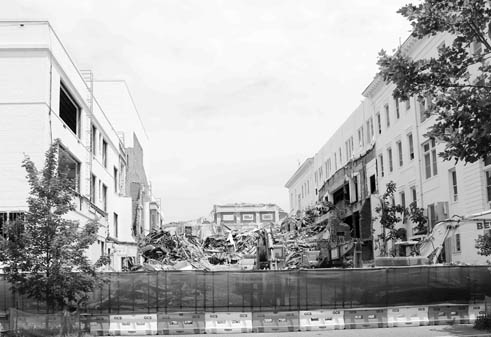 By Katie PearceCurrent Staff Writer
Over the years, costs for the renovation of the Duke Ellington School of the Arts have ballooned from $71 million to now nearly $178.5 million. The D.C. auditor is now trying to figure out exactly how that happened.
"That's an incredible jump in costs in a three-year period of time," said D.C. auditor Kathy Patterson, whose office announced the launch of the audit earlier this month. She said the findings should be released sometime this fall.
Patterson said the Ellington budget has "been a subject of great concern by members of the [D.C.] Council, mentioned in public meetings and public budget markups."
Though the modernization project has won praise for promising state-of-the-art upgrades to a crown jewel of the D.C. school system, education activists and community members have also voiced alarm about the costs — particularly as other school modernizations fall by the wayside.
It's impossible to trace the specific cause-and-effect, said D.C. education advocate Matthew Frumin, but "if we're going to spend that much money on the Ellington project … a number of schools have to wait longer" for their own modernizations.
Frumin praised the intent of the audit. "I think it's really important that we figure out why the costs have exploded in the way they have for this project, which threatens to use up a lot of resources that might be used for other places," he said.
Construction is currently underway at the Burleith school at 35th and R streets, bringing sweeping changes to its 1898-built Classical Revival building. The project's timeline remains a bit murky — it was originally slated to be complete in time for the 2016-17 school year, and students have been relocated to temporary swing spaces since construction started last fall.
The Department of General Services, which oversees all school modernizations, yesterday summarized the big reasons for the cost increases at Ellington. Spokesperson Darrell Pressley said "the educational program, the building's [increased] square footage, and the overall construction market conditions" have all played a role, as have historic preservation requirements.
The project's designs went through a number of public meetings and hearings, and its budget increased by increments throughout. Last winter architects scaled back some of the designs in light of the growing costs. However, the city's 2016 fiscal year budget sets aside $178.475 million total for the Ellington project — more than $100 million above the original projections.
"Everybody I've heard from said the original cost projections didn't make sense," said Frumin. "There was always an expectation that costs would go up."
He noted that that project was always envisioned as creating "a very dramatic showcase" for the magnet arts school. "It's a great program, and it deserves a showcase, but it was never designed in a very economical way. It was designed to be stunning."
According to Patterson, the Ellington audit is one of a series of efforts to comply with 2006 legislation requiring regular audits of school modernizations — which she acknowledged the auditor's office, where she started working about six months ago, hasn't vigilantly addressed.
But Patterson noted progress, including an audit that's supposed to come out in about two weeks covering fiscal years 2010 through 2013. The Ellington audit is one of a series of "shorter reviews" looking into more recent and ongoing projects, Patterson said.
She said her office has found that many high school modernizations in the District have exceeded the ideal estimated cost of $210 per square foot. In Ellington's case, that figure is closer to $1,000 per square foot, she said.
"They're fairly atypical cost figures for new and modernized high schools," Patterson said. "What we want to do is really understand what's behind this."
The auditor's office will also be looking more broadly into the policies and procedures General Services Department follows for school modernizations, Patterson said.
This article appears in the June 24 issue of The Georgetown Current newspaper.