Ellington Premieres Modernized Campus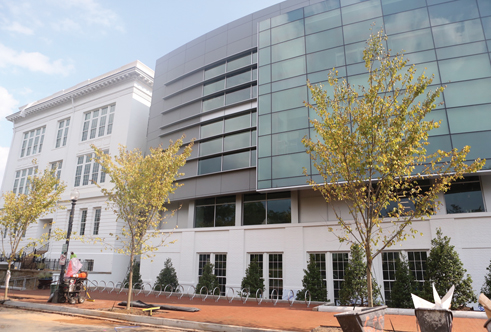 By Grace BirdCurrent Staff Writer
No one, not even Mayor Muriel Bowser, claims that Duke Ellington School of the Arts' $165 million renovation was cheap.
Instead, most supporters contend that Ellington's cost, which exceeded its initial budget by nearly $100 million, is justified because it is the city's only public arts high school.
Bowser made that case at Ellington's opening Saturday morning on the Burleith building's front steps.
"Let 'em talk about how much it cost," Bowser told onlookers. "You'll see; it's worth it."
The Duke Ellington School opened in 1974, taking over the shuttered Western High School building at 3500 R St. NW. Citing deteriorating conditions and a lack of space and modern arts amenities, the District broke ground in 2014 on its large-scale modernization and expansion of the 1898 building, with students shifted to temporary facilities near Howard University.
Three years later, the result is striking both in scale and opulence. The 280,000-square-foot landmark is framed by impressive white columns and boasts a gleaming lobby, dance studios, a fitness center, a rooftop classroom and an 800-person, egg-shaped theater that runs from the cafeteria below-ground and juts through the ceiling.
In certain ways, Ellington comes across as almost palatial compared to the typical public school, an impression reflected in the price tag. Originally pitched as a $71 million project, the estimated cost ballooned over the years to $178.5 million.
D.C. Department of General Services chief project delivery officer JocCole Burton defended Ellington's budget during an Aug. 17 site tour, saying that the project came in under the final number, at $165 million. Burton said that initial projections reflected a mainstream facility rather than a performing arts school, with necessary elements causing the budget to swell. Additionally, a design competition held midway through the project added square footage, led to delays and ramped up costs, Burton said.
D.C. Council members aired frustrations about the project last month when, after years of mounting costs and diminishing patience, they were asked to allocate another $4.5 million to finish the job.
"The council was really in a bind," Ward 3 Council member Mary Cheh said in an interview. The request arrived in July on the precipice of the council's recess, Cheh said, and members were told Ellington wouldn't open in time for the start of fall classes on Aug. 21 without the last-minute funds. The money would cover costs like floor-cleaning and outstanding permit fees.
"We had to approve things that we thought were beyond justification," Cheh said. "It was a no-win situation."
In the end, all but one, at-large member Elissa Silverman, voted to approve the funding. In Silverman's view, many of the requests were inappropriate — $250,000 to bleach the terrazzo flooring, for example — and reflected a lack of organization.
"They're never going to be serious about oversight unless we occasionally say no," Silverman said in an interview. "We have a finite, limited amount of capital dollars."
The overruns at Ellington have ripple effects, Silverman added.
"There are many more schools in the lineup," Silverman said. "When one school goes way over budget, it pushes another one back."
More than 20 city public schools are scheduled for modernization in the coming year. Ward 4's West Education Campus is considered to be a high priority on that list, yet its $78.5 million plans continue to be delayed, with designs now projected to start in late December. West is slated to begin construction in February 2020 and to reopen by 2022.
The District's full-scale push to modernize its public schools began in 2006 and has transformed many deteriorated campuses, drawing scores of new families to the public system — leading, in some cases, to overcrowding issues. However, the modernization initiative comes at a cost: School renovation price tags often end up double the projected amount.
D.C. Auditor Kathy Patterson released a report in 2015 that accused the D.C. Department of General Services of poor project management on Ellington in particular. Among Patterson's criticisms was the decision to redevelop Ellington's original R Street location. The site was originally a regular high school, and because it is also a historic landmark, the planned expansion had to contend with costly and complicated preservation requirements. Despite this difficulty, Patterson said, alternative sites like the nearby Ellington Field and a property near Union Station were not properly vetted.
Some Ellington representatives appeared to support rebuilding a new school at a different site, based on an email cited in the audit from Ellington board members Peggy Cooper Cafritz and Charles Barber and the school's former principal Rory Pullens. The email, sent to Peter Davidson of project management company D.C. PEP, professed a desire to build a new facility on Ellington's field, located at 38th Street and Reservoir Road NW two blocks from the existing school building.
"The current facility was never intended to serve as a school for the arts and its configuration has inherent problems in accommodating the multi-faceted programs included in the Ellington curriculum," the email stated. "The need to retain the basic historic structure will always limit the extent of which this facility can be made to serve the interests of the school."
Also, Patterson's audit concluded that project managers failed to include performing arts facilities in cost projections. The initial $71 million budget, Patterson wrote, did not account for sound-insulated rooms, a dance studio, makeup and dressing rooms, a costume room, a scene construction shop or a box office for ticket sales.
Patterson also concluded that Ellington's designs did not use space effectively. Ellington's 600 students would attend academic classes in the morning and performing arts classes in the afternoon — meaning "substantial portions of the facility are unused a large proportion of the time."
But at-large Council member David Grosso doesn't see filling Ellington's vacant slots with other students as a realistic option.
"It's a simplistic view, to think that we could just pop in other kids," said Grosso, chair of the council's Education Committee.
In Grosso's analysis, Ellington is an asset to the entire city, and the school's long hours and rigorous curriculum justify its comparatively low 600-student enrollment (575 students were accepted this year). However, the modernization process that started with an unrealistically low cost estimate and required repeated budget increases won't be repeated, Grosso said.
"Ellington is the end of an era. We now have a full year of planning before we actually budget," he said. "We'll budget more accurately upfront."
Overall, Ward 2 Council member Jack Evans said he's pleased with the results of the Ellington renovation. However, he conceded that oversight was inadquate.
"There are too many cooks in the kitchen in a lot of these projects," Evans said in an interview. "Everybody wants to have their two cents about what it should look like."
At Saturday's opening, students donned "Straight Outta Ellington" T-shirts, chatting and handing out water bottles to onlookers. To rising senior Ira Lindsay, the new school is a sparkling antithesis to the cramped interim facilities students had been attending.
"We're very excited," Lindsay told The Current.
Kendall Barrett echoed her classmate's excitement, saying she looked forward to beginning her final year at the gleaming campus alongside classmates and teachers who feel like family.
"You walk in, and it feels like home," Barrett said.
This article appears in the Aug. 23 issue of The Georgetown Current newspaper.