Ein Builds Kastles in D.C. Field of Dreams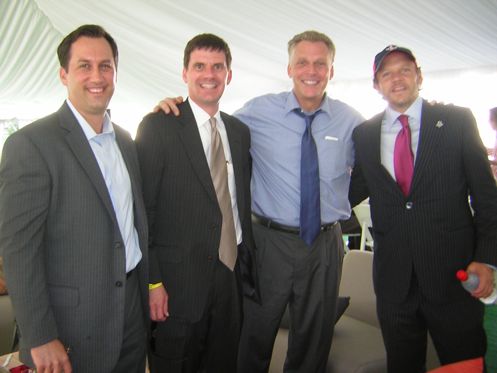 The heavens let loose an evening downpour, turning avenues into parking lots, slamming the breaks on rushour. "Mark is...uhh, running a little late," says a Ray-ban wearing Kastles official, looking at her Blackberry, then at her phone. "He's stuck in Georgetown traffic."
Uncertainty hangs in the air like split sets at Wimbledon. Officials in tennis whites with
Image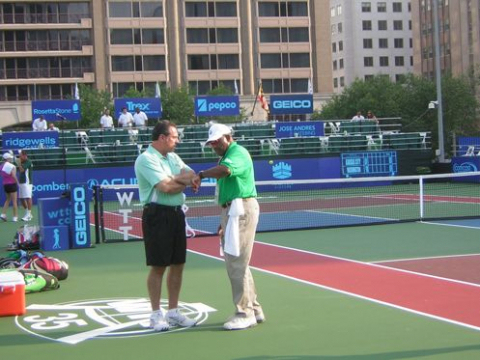 insignia whisper into walkie-talkies. Mark is running late. Stuck in traffic.
Then, suddenly, a crack of blue sky. Steam rises off the green and rust-colored center court as if sighing in relief. "He's five minutes out!" Mark Ein, host of a new rite of summer in Washington, is in sight.
It's the Washington Kastles annual World Team Tennis season, when a vast parking lot (formerly the old Convention Center) in east downtown becomes a buzzing mecca for top tennis, VIPs, partying, and a striking cross section of sports fans, politicians, and plain old residents from across the city.
"I used to brainstorm with [former D.C. City Administrator] Dan Tangherlini about D.C., and we would talk about how people just don't have enough fun here," says Ein. "One day I was driving by this parking lot in the middle of the city, and it hit me -- Field of Dreams."
The dream of this native son of Washington, a graduate of Bethesda-Chevy Chase High School, Penn, Harvard Business School, and the USTA junior leagues, was tennis -- a festive, fun, quality sports event that would brighten the languid summertime and lift an otherwise overlooked part of the city. Ein brought the league called World Team Tennis, co-founded 35 years ago by icon Billie Jean King, to Washington, founding the Kastles to vye for the King Trophy along with nearly a dozen other franchise teams from across the nation.
It's competitive. Ein recruited Murphy Jensen (pictured at right), a Tennis Channel star and former French
Image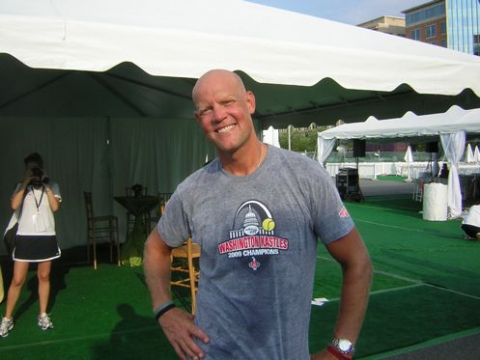 Open doubles winner, as the head coach for the Kastle's 2010 season after the team took the WTT Championship last year.
But Ein actually had bigger dreams. "Winning helps, but it's really a means to an end," he says, noting the irony. "It's always been about community, about creating fun, and bringing folks together."
One of the goals is making sure the city's youth get to experience the tournament and be part of a world-class sporting event. Champions John McEnroe, Anna Kournikova and Martina Hingis are taking part. "I really want people to have fun," Ein says.
"I want to talk with you," interrupts Cora Masters Barry, approaching Ein in the VIP tent as his cell phone rings and his Blackberry starts buzzing.
Image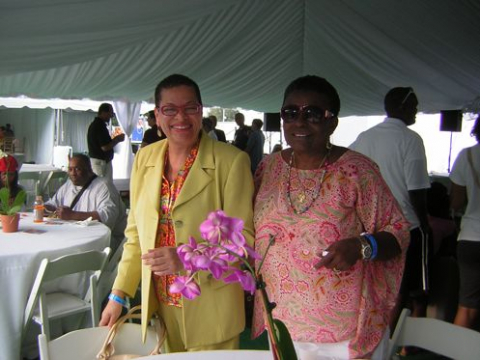 "I want to talk with you, too," says the pin-stripe suited, baseball-capped host, at 45, somehow not perspiring in the 90-degree heat.
Barry, the former First Lady of the District, founded the youth-oriented Southeast Tennis and Learning Center in Anacostia, barely surviving a sudden, nearly fatal eviction threat last year by the D.C. officials, followed by a roar of protest across the political landscape. Barry (at left with Dr. Julianne Malveaux), is determined to keep the east-of-the-river tennis center open through private funding. This summer, over 125 youngsters will be in structured programs there.
"You call me," Ein assures her, handing her his card.
A voice slices across the green carpet toward Ein. "How ya doin'?" says Democratic fundraiser
Image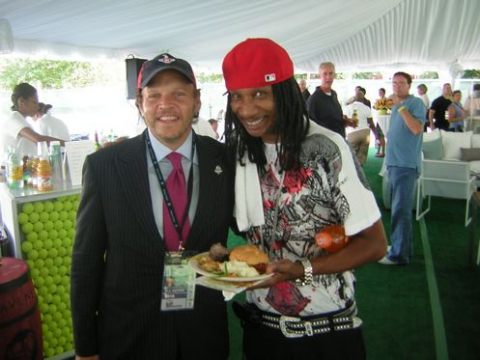 and Clinton advisor Terry McAuliffe, who nearly delivered then-Sen. Hillary Clinton to the White House just two years ago before running for governor in Virginia. Ein and McAuliffe talk in hushed tones for a few moments while sponsors, journalists, lobbyists and even a rapper, DJ Kool (at right), float amid fresh fruit sculptures and snack pavillions.
Fun is not the only thing Ein is interested in. As Founder and CEO of Venturehouse Group, LLC, a technology holding company, he has built a reputation as a business builder and go-to problem solver in the region. He serves on the board of the NIH Foundation, The Economic Club of Washington, the Executive Committee of the Federal City Council and the board the SEED Foundation, along with countless others.
In 2001 Ein bought the historic Beall-Washington house, previously owned by Washington Post publisher Katharine Graham, at 30th and R Streets, though he now lives in the Palisades. Asked about it, he cringes. "I want to move in," he says. "I just haven't had time to really do it yet."
Image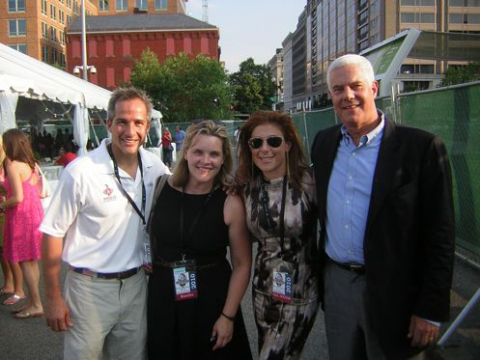 Winston Lord, Kelley McCormick of Qorvis, Jayne Sandman and Marvin Rosskopf near the VIP tent.