Effort Aims to Get More Student Representation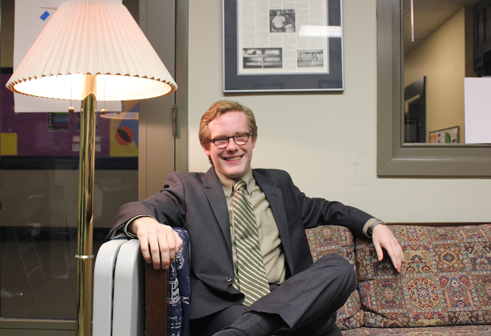 By Brady HoltCurrent Staff Writer
An unusually high number of university students are seeking advisory neighborhood commission seats this year, part of an organized citywide effort to boost students' voices in local government.
Three students are seeking seats in and around George Washington University, two are vying for spots representing the Georgetown University campus, and three are running for districts in and around American University. An American University student is also seeking a Ward 5 seat.
The initiative was spearheaded by the DC Students Speak group. Organization president Michael Panek, a junior at American University, said in an interview that he has attended community meetings in which various residents criticize students because, he believes, they've noticed them only when the students are being disruptive.
"Some people floated the idea that students are second-class citizens, ... that we don't really deserve the same level of representation and respect," said Panek, who is not running for office. "I think what student commissioners do is, you see these smart students who want to help the community and create change, and they become the public image of students at the local level."
A number of students have served on neighborhood commissions in the past, and there are currently students representing on-campus districts at American and Georgetown universities. But redistricting based on the 2010 Census carved out additional seats in exclusively student areas: There are now two each at Georgetown, George Washington and American universities.
Two students are also facing non-student opponents in mixed districts that include both types of residents.
Near American University, student Joe Wisniewski — who lives in the bulk-leased Berkshire apartment building at 4201 Massachusetts Ave. — is facing Silvia Lucero, who lives in an adjacent apartment building in the newly created single-member district 3D10. In Foggy Bottom, George Washington University junior Patrick Kennedy is challenging five-term incumbent David Lehrman for single-member district 2A01, where the two live in the same building.
Like many student candidates, Kennedy said he will bring an undergraduate's perspective to university issues but emphasized that he doesn't want to be defined by his age and occupation.
"I think that it is important that students are represented on local governing bodies so that they have a voice," Kennedy wrote in an email, "but town/gown relations aren't really any more of a focus for me than generally providing active and responsive constituent service to all residents of my district."
In an interview, Lehrman, 66, questioned whether students have the time and maturity to serve, and he said student candidates appear to be "resumé-enhancing."
"It's not normal for a 20-year-old to say, 'I want to throw myself on the altar of self-sacrifice,'" said Lehrman. "You should be thinking about dating the prettiest girl and getting into the best graduate program. You should be thinking about yourself."
Although students are running for three of the eight seats on the Foggy Bottom commission, Lehrman said he thinks student organizers want even more. "Their real goal is to have five 20-year-olds and then muzzle the three grown-ups," he said. "And that was never the intention of creating the ANC. It was to have people with long-term commitments to the neighborhood."
Most of the students running in this year's races are unopposed and running for on-campus seats that represent students almost exclusively. Peter Prindiville, who's running in Georgetown University's 2E08 district, said he hopes to address "the institutional culture of shoving students aside" in negotiations between neighbors and the university administration.
That said, Prindiville added, there shouldn't be a division between "students" and "residents"; they're simply different types of residents whose perspectives should be heard. "This terminology that we've seen thrown around here a lot is, 'We have a student commissioner,'" he said. "I'm trying to really challenge that language. Every commissioner is equal, and regardless of who the constituents are, they should be respected and listened to."
Deon Jones, an American University student who is finishing up his term on the Palisades/Spring Valley neighborhood commission, said he has been able to earn that level of respect from his colleagues and the broader neighborhood — which includes both students and other residents.
"There are times I had to disagree with the students and go in the best interests of the community," he said. And as a result, he said, "community relations have gotten 100 percent better, and I also think the community is more accepting of students [being] involved."
This article appears in the Oct. 24 issue of The Georgetown Current newspaper.