Editorial: Will Georgetown Univ. Expand by Default?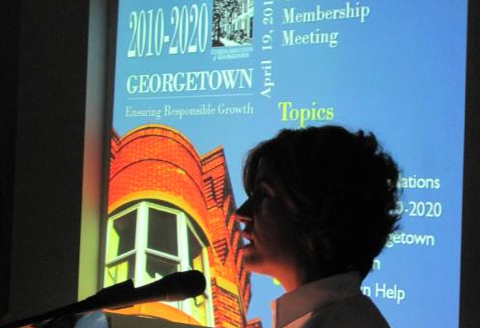 Thursday night's D.C. Council Chair candidates' forum at The Latham Hotel will be crucial to Georgetown's future. Not because people will ask about education and Michelle Rhee or if our finances are leading to another Control Board. Both candidates -- D.C. Council member Kwame Brown and former Council member Vincent Orange -- have their answers ready on these city-wide topics.
We are talking about the Georgetown University expansion plan and how quiet the community has been since two packed, disciplined community meetings in April -- one in Georgetown, the other in Burleith.
Although no vote was taken, both would have been overwhelmingly against Georgetown
Image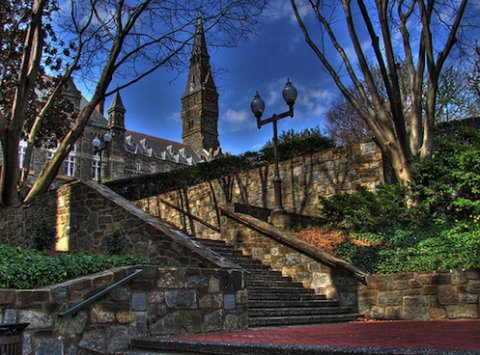 University's plan. The University wants to add some 3,000 students without adequate new on-campus housing, demolish and build new buildings in the block now occupied by the 1789 Restaurant, build an 83-foot tall smokestack, add 700 parking spaces for the anticipated additional traffic and pollution connected to the expansion, realign 38th Street to easier access, and greatly increase the size of the medical facilities. However, the community presentations did not focus on the University -- they focused on the off-campus students and the objectionable behavior by some. The same story line is followed by the Citizens Association of Georgetown on its web site.
The decisions on the University plan will be made politically -- by Mayor Adrian Fenty (acting through his appointees) and Ward 2 Council member Jack Evans, acting directly and through the full Council and by the Advisory Neighborhood Commission. And most important for Thursday's forum, the new Council Chairman will have a role in the decision.
Meanwhile, the community is letting the golden opportunity presented by hot political races -- for Mayor, Council Chairman and at-large councilmembers -- slip away. So far, there simply is not enough noise and controversy over the expansion proposals for any of these elected officials to worry about this issue.
There is still time, not only between now and September 14 (Primary election day), but beyond. We have some specific suggestions:
-- Don't fall into the trap of alienating, much less demonizing, students. While a few remain unconscious of their neighbors, the vast majority are sensitive, open-minded, intelligent, and curious. Students are a critical constituency that community-minded leaders should work hard to cultivate. Historically, students have had the independence of mind, courage, and energy to advance fundamental change. Neighborhood groups should work overtime to point out the overwhelming shared interests they have with students -- themselves victims of metastasizing University growth.
-- Community leaders and grassroots activities must develop a new message that the proposed expansion plan is bad for Georgetown and the University. Destroying quality of life in this unique community will kill the goose that laid the golden egg for all involved.
-- Develop an alternative plan that supports Georgetown and the University's continued institutional advancement. Remember the law school on Massachusetts Avenue? It's to everyone's benefit that Georgetown University continue to excel, attract the best students in the world, and advance academic achievement.
-- Spread the word. The community -- and students, we hope -- must spread the word at every opportunity as part of a request for support and commitments from officials and others who care.
We do note some encouraging acitivity, including yard signs in Burleith, an online petition and a resolution by ANC 3B stating firm opposition to an egregious University Expansion Plan.
Let us reiterate: We are not anti-University. We are sure, however, that there is a better longterm future for both the community and the University than that which has been proposed. We will be there on Thursday at The Latham Hotel to see what develops.
The candidates' debate, sponsored by the Citizens Association of Georgetown and the Georgetown Business Association, is Thursday, July 8 at 7:00 pm at The Latham Hotel, 3000 M St. NW.