Editorial: Oversight needed by Jim Graham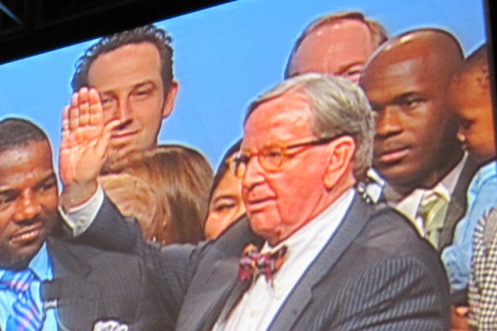 Next week, one of the D.C. Council's most experienced leaders will chair an oversight hearing focused on the agencies that regulate the liquor industry in the District of Columbia. Councilmember Jim Graham (Ward 1), whose legal credentials are among the most impressive on the Council, will surely examine troubling questions about the actions and statements of Charles Brodsky, Chairman of the Alcoholic Beverage Control Board (ABC Board), the body of Mayoral appointees that sets policy and adjudicates disputes on these critical community issues.
Brodsky's appearance in December before the Georgetown Advisory Neighborhood Commission to ask for the ANC's support for the closing of Georgetown streets for The Nation's Triathalon, The Washington DC Triathalon, and Washington Sports and Events Management, Inc. -- businesses Brodsky founded and runs -- raised serious conflict of interest issues that undermine the credibility and possibly the legitimacy of ABC Board decisions.
"It's a very legitimate concern - this conflict situation," said D.C. Councilmember Phil Mendelson (At-Large), Chairman of the D.C. Council judiciary committee and a former ANC Commissioner. "As chair of the ABC Board who rules on matters that the ANCs bring to him, he has the power to rule against them if they don't cooperate with the requests he makes as a private business person."
Matt Watson, former D.C. Auditor and recognized expert on government ethics, agreed. "It's clearly unethical and possibly criminal for a District official to represent a private party before a District agency."
Brodsky has also created conflict and anger in several neighborhoods by leading the Board to terminate Voluntary Agreements signed by ANCs, community leaders and liquor-serving establishments. Brodsky has called the District's 1700 Voluntary Agreements a "deviation" from the city's laws and repeatedly dismissed ANC concerns, labeling them "hyperlocal" in the case of George, the controversial new nightclub near Café Milano. In another case, Brodsky said he did not know how to value a family's sleep over the revenue that would be generated by a liquor establishment. These questionable activities and statements beg for Graham's close scrutiny.
Graham is the most qualified member of the Council to take on this important challenge. He has taught at the law schools of Georgetown and George Washington University. His law degrees are from the University of Michigan and Georgetown.
Not only that, Graham was a clerk to Supreme Court Chief Justice Earl Warren, who was previously a tough-on-crime district attorney known for cracking down on bootlegging and other plagues of the time. Warren built a statewide reputation as a tough, no-nonsense D.A. who fought corruption in government and was considered one of the best district attorneys and legal minds in the country. The rest is history -- few Supremes have been anywhere near as influential. Jim Graham should carry on the tradition of Earl Warren and continue to offer the entire District the high-quality oversight and legal acumen necessary concerning matters that affect communities as seriously as alcohol. The hearing is set for February 22, 10:00 am, Room 123, John A. Wilson Building, 1350 Pennsylvania Ave. NW. Call Councilmember Jim Graham's office at 202.724.8181 to sign up to testify.