Edith Kuhnle Paintings at Addison/Ripley Fine Art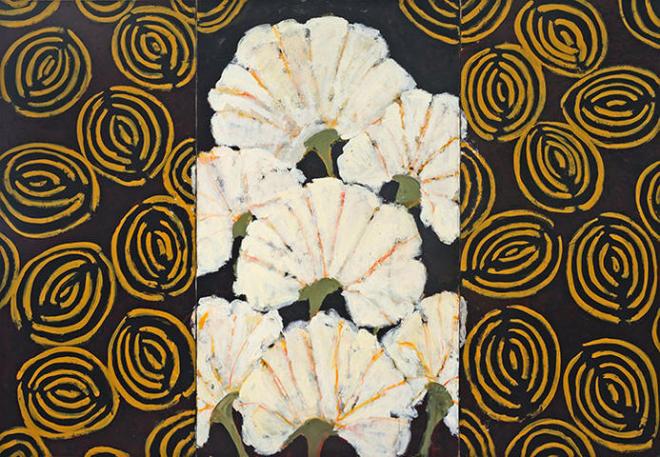 Addison/Ripley Fine Art is holding an opening reception for Edith Kuhnle: Transpositions Thursday, May 15th starting at 5:30 pm. The show runs through July 12, 2014
Juxtapositions of pattern shape and subject. Surprising applications of layered color in lush, sometimes lurid, sometimes subtle compositions. Smartly balanced referential and non-referential configurations. These are some of the "Transpositions" of Edith Kuhnle's new work. If there is any subject, then that subject is bold, iconic, succulent organic forms, constant companions in the artist's painting for years. As Georgia O'Keefe once said, "I decided that if I could paint that flower in a huge scale, you could not ignore its beauty."

Deep aubergines, midnight greens, intense teal shades and rich mahoganies that glow despite their hues are characteristic of Kuhnle's work, imbuing the work with authority and gravity. Working on single and multiple canvases and on arrangements which balance one composition against another in diptychs and triptychs and other multiple panel arrangements, Kuhnle arranges compositions as complex and elegant as symphonies.
Addison/Ripley Fine Art has presented exhibits of work by Kuhnle for more than 25 years and seen the evolution of her skill as her poise and ambition filled larger canvases and more challenging compositions. Her work is in private and public collections throughout the United States, in the collections of several United States Embassies including Cote d'Ivoire and Colombia.
The artist's commissioned work hangs in the Washington Convention Center and the Reagan National Airport. Kuhnle's paintings have been shown in multiple US galleries, and the Meridian International Center toured her work in museums throughout the Pacific Rim.
Addison/Ripley Fine Art is located at 1670 Wisconsin Avenue in Georgetown.