EastBanc to Transform West End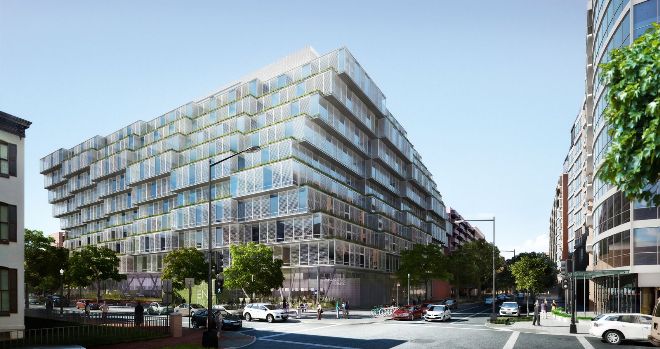 Two EastBanc Inc. projects in the West End will transform the neighborhood with modern glass structures that include a market-rate residential and retail project behind the West End Public Library (Square 37) and an affordable nine-story apartment building on the site of the West End Firehouse (Square 50). Both projects are designed by Enrique Norten of TEN-Arquitectos.
Benjamin Sonnet of EastBanc told The Georgetown Dish, "Square 37 is in the hole now with most of the three below-grade parking levels complete. We should be out of the ground in December and substantially complete by Q1 2017. We are also in the hole with Sqaure 50, and will be at-grade in December. Completion of that project is expected by year-end 2016."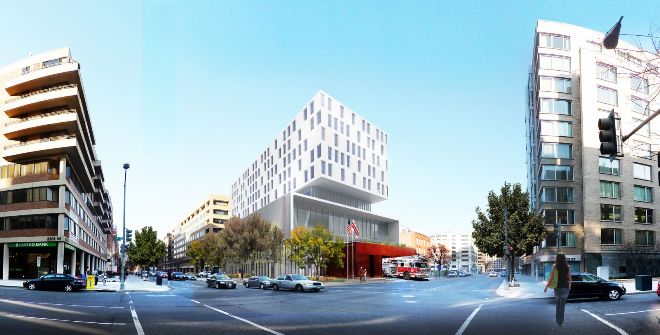 Square 37 is 164 units in two separate cores (all contained within one contiguous façade) - the west core contains 71 larger units (avg 1800sf) to be sold as condominiums and the east core contains 93 smaller units (avg 1300sf) to be rental units. The finishes will be identical in each core. Sales and marketing will begin in early spring 2016. On the ground floor will be a 20,000 square foot new, state-of-the–art West End Library along with 7,500 square feet of local retail.
Square 50 will feature a new two-story West End Fire Station, with a public Squash facility above that, and 61 units of Affordable Housing above that. Building is also 10-stories but on a much smaller footprint.