EastBanc Technologies Moves to Historic Georgetown Post Office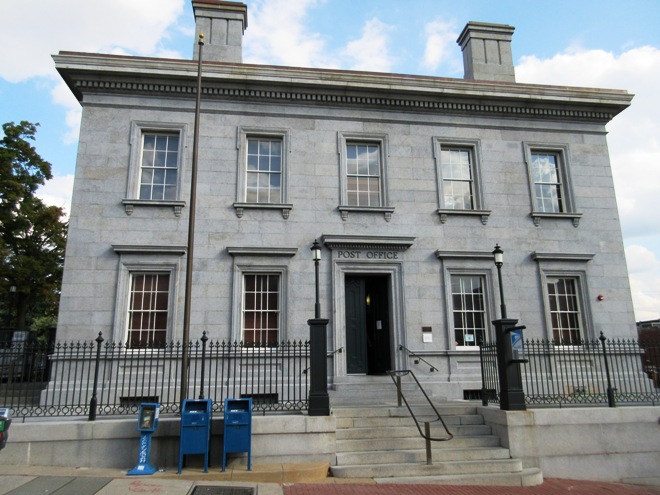 The newly renovated historic Georgetown Post Office has a new tenant. After a year of restorations, the Georgetown branch of the historic U.S. Post Office building at 1215 31st Street, NW is reoccupied.
EastBanc, Inc., the DC-based commercial and residential investment and development firm, announced Tuesday that its affiliate company, EastBanc Technologies, a leading full service software development company, has moved into the historic Georgetown Post Office. In 2013, the United States Postal Service (USPS) sold EastBanc the 10,000-square-foot, 19th-century Georgetown Post Office building with the agreement that a reduced post office space will remain and operate on the ground floor.
According to Anthony Lanier, president of EastBanc and owner of EastBanc Technologies, the U.S. Post Office is now re-opened and operating on the premises and remains on the first floor of the architecturally significant structure, which is listed on the National Register of Historic Places. Designed by Ammi Burnham Young in 1857, the Renaissance-style building has housed a post office since the James Buchanan administration and features high ceilings and ornamented columns. When it opened in 1858, the first floor was the Georgetown post office and the second floor was the Customs House for goods imported through the port of Georgetown. Eventually, Georgetown merged into the District of Columbia and the Customs House left the building in 1960, when the port of Georgetown ceased to operate.
EastBanc retained the DC-based architecture and design firm CORE to design the modifications of the historically significant building and the new addition of EastBanc Technologies' office interiors. The spaces on the main floor have been carefully modified to accommodate the needs of a modern post office. The former Customs Office on the second floor has been restored including the fireplace and wood floors in the original office of the Customs Master. To not impinge on the historic spaces and details, the new EastBanc Tech office has been designed with a sweeping floor plan and open office systems.
Because the main structures had to be preserved, the only addition is to the basement level. This submerged area accommodates an open, sky-lighted office environment and a common social center. A kitchen space is located in the original vaulted cellars of the old building.
Lanier's affiliate business EastBanc Technologies, the Georgetown-based full-service software development company, has signed a 10-year lease to occupy 11,776 square feet of commercial office space that spans three floors, including the excavated expansion of the basement level. Fifteen-foot ceilings and interior skylights unify the tri-level office space that employs more than 75 team members.
According to Joe Sternlieb, CEO and president of the Georgetown Business Improvement District, Georgetown is becoming a mini tech sector in the national capital region. The Eastbanc Technologies relocation is the latest in a surge of technology companies moving into the Georgetown area including Smart Things, Radius Networks and Palantir Technologies.
"EastBanc Technologies' move to larger digs confirms Georgetown as a great location for technology companies looking for unique space in a thriving historic district," says Sternlieb. "Georgetown is becoming a hotspot for the creative economy."