EastBanc May Have Reached Compromise on Post Office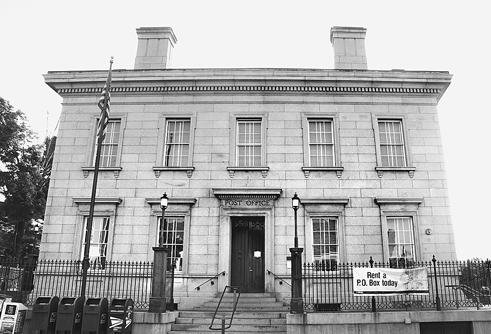 By Brady HoltCurrent Staff Writer
After years of delays and a series of varied concepts, developer EastBanc is confident it is about to win approval for its plans to expand the Georgetown Post Office building and use most of the facility for commercial offices.
The Georgetown advisory neighborhood commission and the Old Georgetown Board — often the main hurdles facing developers in the federally protected neighborhood — had each supported multiple previous proposals for the site at 1215 31st St. But each residential and office proposal for the property wound up facing opposition elsewhere.
"We have a situation where the Office of Planning, the historic review boards and one of our neighbors each have a different idea of what should be here," EastBanc representative Mary Mottershead said at Monday's Georgetown neighborhood commission meeting.
But the modest scale of the plans and months of careful revisions — the project was pulled at the last minute from the previous two neighborhood commission agendas — have netted the compromise that everyone was seeking, she said. Compared to the most recent plans from last summer, the rear addition will be below grade and even less obtrusive, with an entrance and an elevator shaft representing the primary visible components.
"Basically there's not much that's going to be seen and it's quite a small addition to this space," Mottershead said.
The U.S. Postal Service will maintain a retail presence in the building, but it no longer needs the expansive 1858 building and its 1926 rear addition for its Georgetown operations. Most of the existing space that EastBanc will convert into offices is now entirely unused; only a few post office boxes will need to relocate to the front desk portion of the building.
Because the site is residentially zoned, EastBanc is applying for a Board of Zoning Adjustment variance both to add the commercial office use and to maintain the grandfathered Postal Service operations. The Office of Planning had originally requested a residential project on the site in order to be consistent with the Comprehensive Plan, but Mottershead said planners came around to the scaled-down design now proposed.
Variances will also be required because the below-grade addition extends close to the property line and increases the building's lot coverage. EastBanc has expressed confidence that the latest proposal will be approved. The Board of Zoning Adjustment's hearing is scheduled for July 24.
A previous dispute over the property regarded the historical significance of the 1926 rear addition, which EastBanc had originally planned to remove. The latest plans, like those the Old Georgetown Board supported in September 2011, retain this piece of the building but retrofit an elevator.
Other proposals for the site have included town houses, an apartment building and a larger office building.
This article appears in the July 4 issue of The Georgetown Current newspaper.