EastBanc Eyes Gas Station for Apartments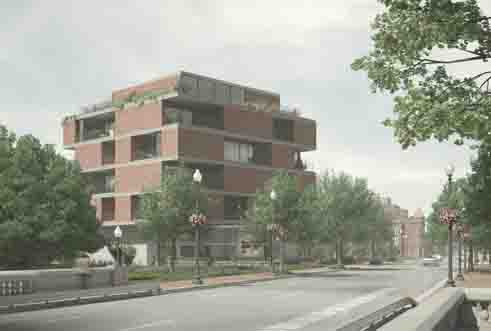 By Brady HoltCurrent Staff Writer
At the gateway to Georgetown — between Pennsylvania Avenue and M Street across from the Four Seasons hotel — visitors to the historic neighborhood are currently greeted by a small gas station and a jumble of cars in various states of repair.
But as early as next summer, developer EastBanc intends to begin construction on a new five-story building there. It would house eight 2,000-square-foot rental apartments and a roof terrace as well as a 70-seat ground-floor restaurant.
The firm presented its plans for the building to the area's advisory neighborhood commission on Monday in preparation for an Old Georgetown Board design hearing tomorrow and Zoning Commission land-use considerations this fall.
Neighborhood commissioners praised the general concept of putting the gas station site to new use, but several were wary of the particular design proposed — a rectangular red-brick building that's punctuated by deeply recessed balconies for the apartment units. Commissioner Jeff Jones said the prominent site might benefit from a more adventurous design.
"I feel like this is an opportunity — it's a blank space," said Jones. "I like authenticity in Georgetown as far as all the different types of architecture that we have. Once we start replicating what Georgetown looks like ... all of a sudden we're losing some of our authenticity. I'm OK with a modern building here. This is almost pedestrian-like — it's OK, I guess."
EastBanc officials noted that the property is deceptively small, just 7,400 square feet, between two areas of National Park Service land. The site held a small church until 1951; it was demolished just before Georgetown's strict preservation rules went into effect, according to EastBanc.
"I sympathize very much with your comments — we struggled a lot with the building," the company's Anthony Lanier told commissioners. "It's a building that grows on you over time. I like it better today than I liked it at my first impression. It's a very difficult building to understand, and it's a very difficult site to build on."
EastBanc's Mary Mottershead added that the design, with lots of brick and deep windows, avoids the pitfalls of many new residential buildings, in which passersby can easily see into the units. "Their vision for the site has been not to make a big glass box that lights itself up, but sort of a quiet building," she said.
Victoria Rixey of the Citizens Association of Georgetown asked EastBanc to make the proposed design "a little friendlier."
"We feel that this building speaks to the architecture of the West End," she said. "This is sort of a '60s style where you have the concrete slabs with the brick infill, and we feel it belongs better in that neighborhood."
The neighborhood commission voted to support the plans to raze the gas station and construct a new building, and asked the Old Georgetown Board to use its own judgment on the aesthetics of the proposal.
In addition to that board's review of the project's consistency with the Georgetown Historic District, the Zoning Commission will need to designate a zone category for a portion of the property that currently has none. Part of the site is governed by restrictions found on the north side of M Street, including a 50-foot height limit, but EastBanc is hoping to instead match the 60-foot limit found at the Four Seasons site and nearby properties to the south. Mottershead said this wouldn't increase the number of stories but would allow for higher ceilings, especially at the restaurant.
EastBanc will also need relief from parking requirements. Mottershead said zoning rules call for three parking spaces on the property, and the company would rather use its limited land area for 40 to 50 outdoor seats for the restaurant and for a service driveway connecting M and Pennsylvania. She said the new tenants either would not have cars or could lease spaces at commercial garages nearby.
In an interview after the meeting, Mottershead said EastBanc hopes to break ground on the project in 12 to 18 months, with timing dependent upon regulatory approvals. She said the firm doesn't have a particular restaurant tenant in mind, nor does it have a cost estimate for the project.
According to property records, EastBanc purchased the site for $4 million in March.
This article appears in the July 1 issue of The Georgetown Current newspaper.