Earth, Wind and Fire...and Duke Ellington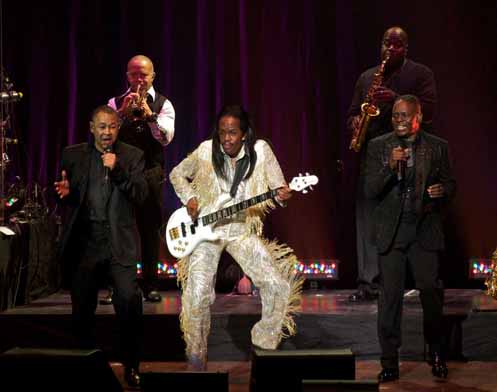 I don't get gushy often. Honest. I don't. But on Thursday evening I did—and for many reasons. Pun intended. OK..so Earth, Wind and Fire. While I'd love to tell you I discovered them well after their now 40 year career blossomed, but I remember when their songs were new; when we danced our way into the wee hours to their music; when we sang along with their music as loudly as we could. Fact of the matter is we still do.
It was a packed house at The Kennedy Center as the iconic band brought their musical stylings to DC to benefit The Duke Ellington School of the Arts as part of their annual Legend series. And it was legendary. To say that Phillip Bailey has a good vocal range is like calling a Testarossa basic transportation. After 40 years in the business, he still looks, as does the rest of the band, like a young man and has a voice that spans more than any mere keyboard. And the evening was electric—the crowd on its feet for most of the hour and a half performance. Six inch stilettos? Who cares?!?!?!? My feet were dancing. Sore throat? Not an issue when singing along with your seat-neighbor to the music you grew up with. I was not alone.
Earth, Wind and Fire took the stage by storm, offering two sets of their now classic songs. The band, a mix of funk, jazz, pop and R & B, regaled the crowd with everything from After the Love is Gone to September. Ba-de-ah. But the reason...the reason we were there,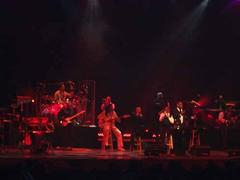 though, fabulous music aside, was to benefit the Duke Ellington School of the Arts-among DC's highest rated for academics as well as unquestionable young talent. When I was 16, I was barely capable of driving a car. At 16 and even younger, these kids participated in master classes with these visiting celebs who graciously donated their entire day for that purpose alone, and hit the stage with a between-set performance worthy of any Broadway stage—maybe better…and all this education and talent is in our own backyard, folks. Did I mention the majority of these students graduate and go on to college? Unheard of in urban schools of the 21st Century.
Duke Ellington is nationally known for its ability to take ordinary urban kids with talent and turn them into both academic and artistic successes. The School has a remarkable 98% graduation rate and a 95% college acceptance rate. Duke Ellington is an accredited college preparatory public arts school of the District of Columbia offering pre-professional training in museum studies, literary media, visual arts, dance, theater, instrumental, design and production and vocal music. Ellington offers students an educational experience that combines\ both academic studies and artistic development. Ellington's vision is to meet the needs of talented students who are considering careers in the arts by providing intensive arts instruction of the highest quality and strong academic curriculum and to prepare students for post-secondary education and/or pre-professional careers. Ellington's unique partnership with the John F. Kennedy Center for the Performing Arts, The GeorgeWashington University, and the District of Columbia Public Schools provides significant opportunities to the students, faculty and staff.
So the upshot—a fabulous event to benefit a cause—the cause of education and arts proliferation. Not a bad evening to have—in fact it was outta sight..alright…allll-llll-lll-right.
For more information on the Duke Ellington School of the Arts or to donate, visit www.ellingtonschool.org