E Pluribus Unum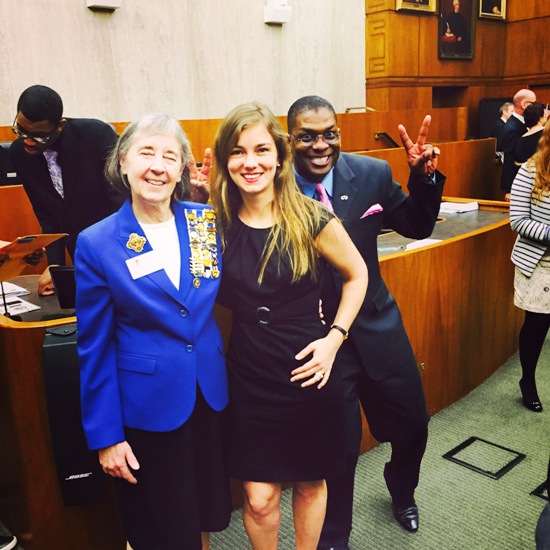 "Remember that all of us are descended from immigrants and revolutionists." FDR
My family has called me "the American" for quite some time. As of Tuesday April 14, they are no longer factually incorrect when doing so. This past Tuesday is the day that I became an American.
Almost exactly 20 years ago, in August of 1995, I landed at New York's JFK airport, alone, to attend college in the US. Luckily, a dear family friend, Aileen, was there to pick me up and drive me to school. 20 years later we are still friends and she will always hold that special place in my heart – the one who picked me up and helped me start my American journey. On Tuesday, I began a new phase of that journey.
Nothing prepared me for the ceremony or emotion of that morning. The moments I will forever remember include:
Bryant W. Johnson, Records Specialist and for all intents and purposes, the Master of Ceremonies and our Entertainer for the morning. He organized us, told us where to sit (front row seat for me!), what to do, and kept us both laughing and serious as the situation demanded.
The moment when I had to relinquish my green card to a court officer. We all did. Mr. Johnson apparently knew how uncomfortable we were doing this. (The one thing I have trained myself to never, ever, lose, no matter the situation, is my Green Card. It possibly was my most prized possession until this past Tuesday.) After we had all given it back, he joked we at that moment were not quite legal, and recommended that should the fire alarm go off, we catch him!
Watching the sign language interpreter. Of course, the US being the amazingly inclusive country it is, she was there from the beginning to the end, translating he ceremony and every joke Mr. Johnson made.
The speech by Nisha Desai Biswal, Assistant Secretary of State Bureau of South and Central Asian Affairs. A naturalized citizen herself, she reminded us of her favorite quote by Franklin D. Roosevelt: "Remember, remember always, that all of us, and you and I especially, are descended from immigrants and revolutionists."
The speech by our judge. 12 weeks in the court, it was Judge Amit P. Mehta's first naturalization ceremony, and he was appropriately (and adorably) nervous. He told us of his story, which began in India. He was naturalized when he was 10 years old. He spoke of the great journey that is America. "America is not a destination, it is a journey. It is a constant state of striving for that perfect Union." "The story of America is fundamentally an immigrant story," he reminded us. "This country was founded on shared values, not a specific race or religion."
And indeed, that was reflected in the room – 50 countries were represented. All ages, both genders, all skin tones, and many languages. We were 119 altogether. A true representation of "E pluribus unum." Most people came with friends and family members. I, however, came alone. When I left for college, I left Switzerland alone, partly as a sign of fierce independence. Being alone Tuesday morning had a nice parallelism to it, and felt completely
Perhaps because truly, I was not alone. The gentleman sitting next to me, an immigrant from Morocco, was also alone. We took each other's pictures (all the ones in this post are courtesy of him), spoke of entrepreneurship and the American dream (he too owns his own business), and laughed together.
I also was not alone because of the amazing social media love. Never before has that touched me so much. All Facebook comments, tweets, and texts made my day so very special – some worth highlighting include:
Congrats Ada! We're happy to have you, especially since you make us all a little bit prettier with your magical Swiss blueberries! (JH)
Congrats Ada. Very happy for you. The last question they will ask you is what is your favorite NFL team. Although you will be tempted to say New England, if you answer Washington you will pass the test. (SA)
Congrats–we just (the US that is…) got better looking. (LHD)
Ada, this is the nicest thing that's happened in a while and we welcome you. (BM)
While I had not expected to feel any different (after all, I have been living and paying taxes in this country for such a long time), it does feel different. It feels wonderful. Official. Proud. Humbling. I do not feel less Swiss or less European, instead, I feel more whole.