Dupont House Tour tea offers delights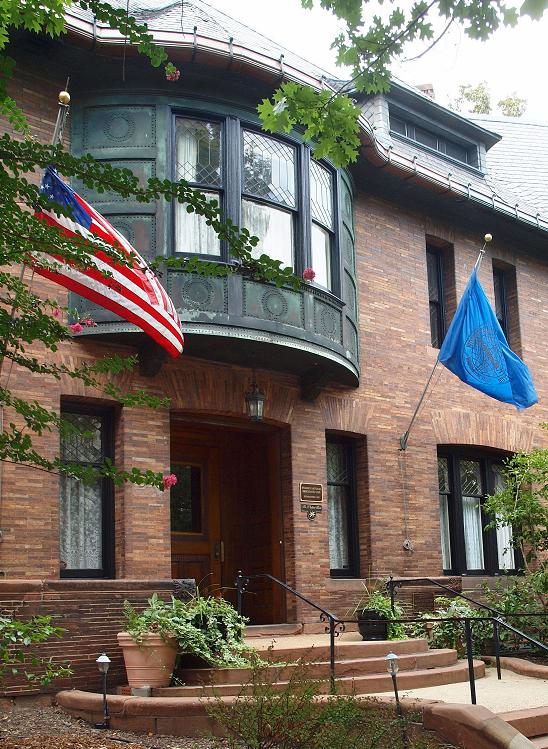 The Whittemore House will be the site of Afternoon Tea for this Sunday's 44th Annual Dupont Circle House Tour.
The Arts and Crafts style mansion, at 1526 New Hampshire Ave. NW was designed for opera singer Sarah Adams Whittemore by noted Washington architect Harvey Page in 1894. It has been home to the Womens National Democratic Club since 1927.
The house sits on a triangular lot at the corner of New Hampshire Ave. and Q Street (the intersection of the first traffic light in the District) and is a familiar sight to Dupont denizens who esteem its leafy landscaping, and the colorful donkey statue out front corralled from the Party Animals exhibition.
Interestingly, in light of the Occupy D.C. protests and the dedication of the MLK Memorial, Whittemore House was actually an architectural reaction to the excesses of the Gilded Age. Instead of the unyielding symmetry and heavy decoration of beaux arts classicism prevalent at the time, this structure presents an irregular shape, with tall chimneys, polygonal towers, no rectangular rooms, and a free-flowing cape-like slate roof. Exquisite details reside in the deep leaded windows, punched copper cladding, and rich brickwork. The second floor rooms usually unavailable to the public will be open for viewing, and the shady garden patio will accommodate the genteel sipping of tea.
Tour presenters emphasize that even if the house calls to mind a welcome modesty and restraint, the Tea itself will be "lavish" as House Tour goers have been accustomed -- this year featuring delights from Firehook Bakery, Hello Cupcake, Panas Gourmet Empanadas, and Teaism.
This year for the first time, the House Tour has a corporate sponsor -- Washington Fine Properties. WFP's Stephanie Bredhal serves as co-chair of the Tea.
House Tour is the main fundraising activity of the Dupont Circle Citizens Association. Proceeds benefit the community through contributions to Ross School, Charlie's Place, Whitman Walker Clinic, Historic Dupont Circle Main Streets, Clean Teams for Dupont Circle Park, and numerous other projects.
The Dupont Circle House Tour takes place Sunday, Oct. 16 from 12 noon to 5:00 pm.
Tickets are $30 in advance, $35 on the day of, and include admission to the Tea from 2:00 to 5:00 pm at the Whittemore House. Tickets are available for purchase at local outlets: Annie's Paramount Steakhouse, Axis Salon, Home Rule, Java House, True Value Hardware. And on Sunday only at the Dupont FreshFarm Market from 9:00 am to 12 noon. Online purchase at www.dupont-circle.org for pick-up starting at 11:30 am Sunday at the Whittemore House, 1526 New Hampshire Ave. NW.