Dumbarton Oaks Park Among Grant Recipients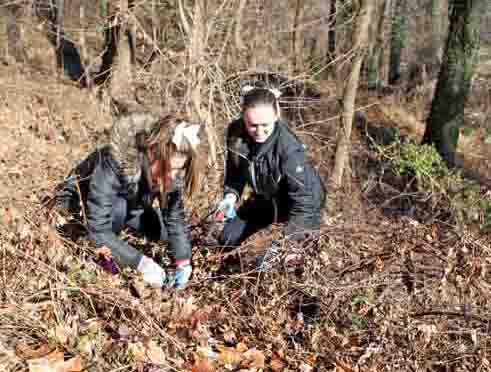 By Grace BirdCurrent Staff Writer
The National Park Service is celebrating its 100th birthday by awarding centennial challenge grants to six parks across Northwest D.C., the U.S. secretary of the interior announced last month.
This year, Congress gave $20 million to national parks across the U.S., and park partners added another $33 million. "Many of the national parks that Americans treasure today would simply not exist without the strong partnerships and philanthropy that have benefited the national park idea for over a century," acting National Park Service director Michael Reynolds said in a news release.
Locally, the Northwest locations receiving funds are Chevy Chase Circle, a section of Rock Creek Park near Massachusetts Avenue, Dumbarton Oaks Park, the Lincoln Memorial, the Carter G. Woodson Home and Mount Vernon Triangle.
At Chevy Chase Circle, sometimes called the "gateway to the nation's capital," the park's friends group received $16,368 in government funds and matched that amount with an additional $17,705. The money will be used to restore bench seating for up to 200 people lining the outskirts of the circle, according to the friends group's president, Ruth Robbins. Many of the benches, installed in 1956, do not have a seat rail and are "skeletal," she said.
The group raised the money by sending 6,000 letters to neighbors asking for donations. "And people responded," Robbins said. "We had a 5 percent return rate, which is unheard of."
Barbara Price conceived the circle project in 1992, and for 14 years she and a group of friends worked to reimagine the dilapidated park. After Price left the area in 2006, restoration efforts waned. Then, in 2014, Robbins resurrected the friends group and secured nonprofit tax status. Since then, the group has been working to restore and maintain the circle.
On April 17, Robbins' group planted six new willows courtesy of Casey Trees, to complete a complement of 30 trees around the circle. Then, in May, the group held a "pruning party" where more than 40 volunteers helped trim the circle's newly planted azaleas. Also, two overgrown traffic triangles were recently freshened up by landscaping company Kristina Kent Garden Design.
Efforts to restore Chevy Chase Circle may have lapsed for several years, but Robbins has no plans now to slow down. Members will soon turn their attention to the curb lining the circle, which Robbins said is only a few inches wide, leaving the circle susceptible to damage from car crashes. However, this effort is complicated by the fact that the circle sits along the Maryland-D.C. line, forcing coordination among federal, District and Maryland authorities.
Robbins also has her sights set on restoring the circle's aging fountain, although such an effort would cost about $500,000.The Rock Creek Conservancy also won centennial grant funding to restore a woodland area near Rock Creek Parkway, Massachusetts Avenue and Whitehaven Street NW. The group received $17,000 in federal funds, and raised an additional $71,000 in cash and in-kind donations.
With these funds, Rock Creek Conservancy plans to remove at least 17 invasive species, as well as plant several hundred native trees courtesy of Casey Trees.Next on the calendar is a volunteer tree-planting day, with a date to be announced soon, said conservancy spokesperson Katy Cain.
Meanwhile, Georgetown's Dumbarton Oaks Conservancy received $320,000 from the federal government to alleviate problems caused by stormwater runoff from nearby properties, and the conservancy is currently raising funds to match that amount. The runoff pollutes the park's waterways and damages roots of trees and shrubs, according to conservancy president Lindsey Milstein.
The first phase of work has been underway since June of last year, with a scientific and engineering consulting firm contracted at a base fee of $130,000.
Potential design solution include building landform structures to slow the flow of water, directing water into new pools fitted with permeable materials, and retaining runoff in ponds and wetlands. The project is scheduled to wrap up by the end of next year.
"The Centennial Challenge grant is the miracle that opens the door to the Conservancy meeting its mission," Milstein wrote in an email.