Dumbarton House to Reopen After Renovation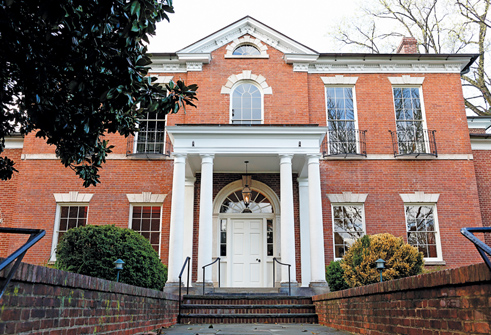 By Brady HoltCurrent Staff Writer
When the Dumbarton House was struggling with an aging and trouble-prone air conditioner, staff at the historic home and museum knew it was time for a mechanical upgrade.
But in a building that was constructed in 1799 and holds collections of antique furniture, artwork and other items, a seemingly simple replacement wouldn't do. In addition to everyday concerns about cost and energy efficiency, Dumbarton needed to balance the humidity and temperature requirements of the building with those of its artifacts, while also ensuring comfort for visitors and staff. Meanwhile, changes to the ductwork had to be done with great care to avoid disturbing the historic rooms, which were designed long before such considerations were necessary.
All in all, executive director Karen Daly told The Current, the planning alone took three years. Actual installation has kept Dumbarton House from allowing general admission since October. But the work is paying off, and the 2715 Q St. NW museum announced Friday that regular public admission will resume June 1 — with many improvements. "We look forward to welcoming the community and visitors to Washington, D.C., back to reconnect with this piece of American history," Daly said.
When the public returns to the Dumbarton House, visitors will also notice programmatic changes the staff made during the seven-month closure. Notably, some space on the second floor no longer replicates the historic look of old guest bedrooms, but now hosts exhibit areas with galleries and interactive materials for visitors to learn about the house and, more generally, the early days of Washington, D.C.
The changes will allow visitors to take self-guided tours armed with more information than a paper brochure, Daly said. Meanwhile, docents will offer a modified tour that focuses on the stories of people and events connected to the property. Joseph Nourse, the first occupant of the northern Georgetown house, worked as the first register of the treasury for the new federal government. Daly called him "America's first civil servant," and said that other members of the household — including paid servants, indentured servants and slaves — are also featured.
"We date back to 1799, and of course that was right as Washington was about to become the new nation's capital — so it was a period of uncertainty here and for the country, and one that today a lot of visitors don't consider," said Daly. "We look back and take it as a given that our experimental democracy would be a success and revered throughout the world, but at the time these were untested waters."
The exhibit space will also host a series called "The Exchange," presenting original-source documents. When the home opens, the series will feature a rare original printing of the 1777 Articles of Confederation (and a second edition of The Federalist Papers from 1818, according to a news release).
Also concurrent with the HVAC work, Dumbarton House made repairs to its non-original windows — and discovered that one window, located at the attic level, in fact did date to the home's original construction, Daly said. Even more curiously to the staff, it showed signs of surviving a fire that curators didn't know had occurred at Dumbarton. "We'll be turning researchers' attention to that next," Daly said.
Dumbarton House had initially planned to reopen in April. Daly said that although the HVAC work was mostly done by then — some fine-tuning of the settings remains — the museum is still in the process of bringing back the house's contents from climate-controlled storage. "We're not behind schedule per se, but we have clarified the reopening activities to focus on the first week of June to have a little fanfare when the collection was moved back in and reinstalled," Daly said.
The timing also coincides with the Dupont-Kalorama Museum Walk on June 3 and 4, which will offer free admission at Dumbarton and four other nearby museums.
A reopening reception will take place from 5:30 to 8:30 p.m. June 1, with tickets costing $40 per person. A free community reopening celebration will take place at noon June 3. General operating hours will be 10 a.m. to 3 p.m. Tuesdays through Sundays once the museum reopens, with admission for most patrons costing $10 per person. Visit dumbartonhouse.org for more information.
This article appears in the May 3 issue of The Georgetown Current newspaper.