Dumbarton Church marks 25 years of GLBT inclusion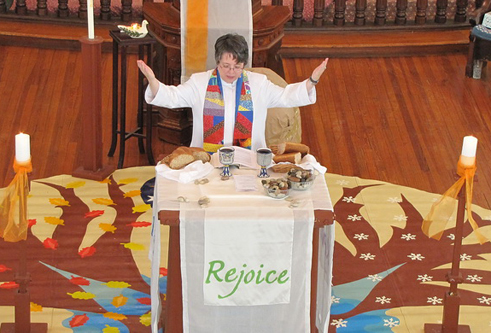 By Anna Weaver Current Correspondent
Dumbarton United Methodist Church is a handsome, late-19th-century building that sits among historic row houses on a neat residential street in Georgetown. It's the oldest Methodist church in D.C., and 2012 marks its 25 years among the most progressive Methodist congregations in the country, its members say.
That's because a quarter of a century ago, Dumbarton members unanimously voted to join the Reconciling Ministries Network, which is made up of Methodist churches that welcome people of all backgrounds and sexual identities and support their full inclusion into active ministry.
"In a lot of the world and even in parts of this city, those are still radical ideas," said Chett Pritchett, Dumbarton's lay leader and a gay member of the congregation. "We were doing it 25 years ago."
Image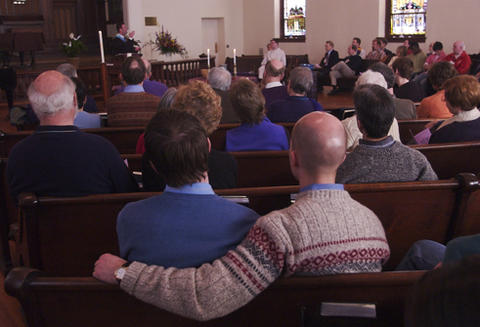 "Gay, lesbian, bisexual and transgender people are part of the fabric of this congregation," said church member Ann Thompson Cook, who helped lead Dumbarton's nine-month exploration process in 1986 and 1987 as the community decided to become a reconciling church.
Dumbarton strives to be welcoming to all. At church services, everyone gets a name tag, including guests. The sanctuary pews are set up in a semicircle to position people closer to the altar, and children are called up for an interactive lesson in front of the congregation before going to Sunday school.
The Feb. 12 service given by Dumbarton's pastor, the Rev. Mary Kay Totty, focused on Valentine's Day and knowing the difference between romance and love. Totty asked all the couples in the congregation to stand up. There were a few young couples, some partners celebrating more than a half-century of marriage, and pairs both gay and straight.
"We celebrate with you and we rejoice with you," Totty said of the couples' commitments. "There is so much more love in this world than romance."
In an interview a few days before the service, Totty said that when she was assigned as pastor to Dumbarton in 2009, she "knew it was the church that I always wanted to serve" because of its inclusive community.
She estimates that about 15 percent of the 300-member congregation is gay, lesbian, bisexual or transgender.
Totty also pointed out that the United Methodist Church will not ordain openly gay ministers and also includes some discriminatory language against gays in its "Book of Discipline."
"It's absolutely vital for churches to say publicly and with joy that gay, lesbian, bisexual and transgender people are God's loved children just as they are, and that we need to welcome and celebrate all people," she said.
Dumbarton itself began as a traditional Methodist congregation, founded in Georgetown in 1772. It moved into its current church in 1850.
Member Michael Doan says that in the early 1970s, the congregation was transitioning from a more conservative makeup to a more progressive one that supported peace and social justice issues.
Affirmation, a Methodist gay rights organization, began holding services at Dumbarton in 1979, but as tenants and not as a sponsored church group. Then Affirmation members asked the congregation to go a step further and look into full inclusion of gay people in the church community.
Image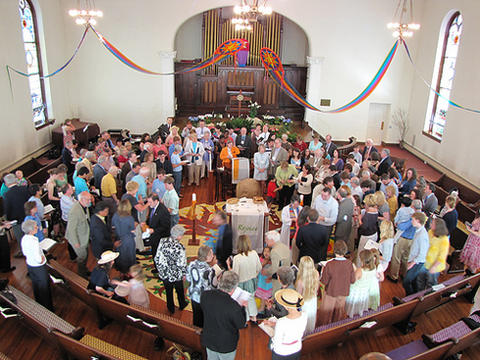 That began a church discernment process over several years including studies and education sessions for parents — on top of the nine months of meetings, a sermon series and seminars leading up to the 1987 vote to become a reconciling church.
It wasn't an easy transition, church members say, and some members left the congregation.
"It was an education process," Doan said. "I don't think it would have worked if it had happened all at once."
Doan admits that he himself was wary at first. Now, he said, "I don't think of it as an issue. They're just people in the church."
There are nearly 500 United Methodist churches in the Reconciling Ministries Network and about 33,500 United Methodist churches in the country.
Each year since its members voted to become a reconciling church, the Georgetown congregation holds a celebration on the Sunday before Lent, including a Mardi Gras pancake breakfast.
This year's 25th anniversary celebration will take place this coming Sunday, and it will include a 10 a.m. talk by a former pastor, the Rev. Mary Kraus, on Dumbarton's history of LGBT advocacy and an 11 a.m. worship service including a guest sermon by Sean Delmore, a Methodist minister and gay rights advocate.
Kraus is looking forward to celebrating with her former congregation, which she says helped educate her about the LGBT community.
While she was pastor from 1990 to 2009, she saw a deepening of the congregation's understanding of what it meant to be a reconciling church.
"Children really helped lead us through it," she said. "This generation is just now raised in that kind of [inclusive] community that's providing key leadership in other justice issues as well."
At a social hour following the Feb. 12 service, some of those children, along with adult members, helped sponge-paint multicolored banners that will hang in the church sanctuary for the 25th anniversary celebration.
Thompson Cook pointed to the church members talking and snacking on refreshments and to the inclusive service beforehand and said, "You can tell … we're completely comfortable with each other."
Church administrator Melany Burrill, who is gay, said her parents time their visits to see her with the reconciling anniversary each year. "It's one of our 'high holy days,'" she joked.
Burrill said she chose to join Dumbarton in 1995 because the congregation knows "the difference between talking community and living community."
"I can bring all of me to church," she said. "I don't have to be someone I'm not."
This article appears in the Feb. 15 issue of The Georgetown Current newspaper.