DSK Beach 2.0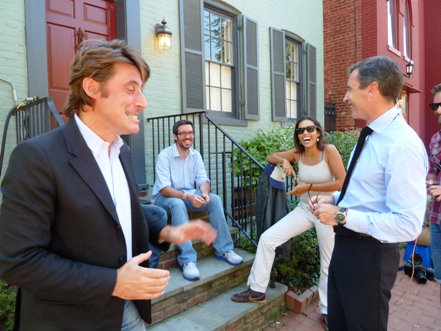 The cameras had been in position for over four hours when a blonde woman emerged from Dominique Strauss-Kahn's Georgetown home shortly before 1 pm. She returned a half hour later ... with lunch?
"It's just an amazing story … he was well on his way to becoming president," said Thierry Arnaud. For him and other, mainly French news reporters camped out in front of DSK's Georgetown home Tuesday, it's been a long summer covering the incident that derailed the career of ex-International Monetary Fund chief and French socialist presidential nominee, Dominique Strauss-Kahn. Natalia Mendoza from TF1 TV agreed."It's a political earthquake."
In town to visit IMF headquarters and meet his successor, Christine Lagard, DSK and his wife Anne Sinclair returned to their Georgetown home Monday, as reported earlier today by Euro News.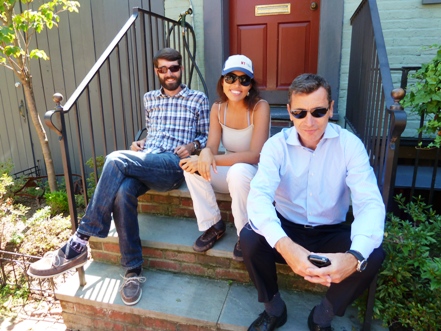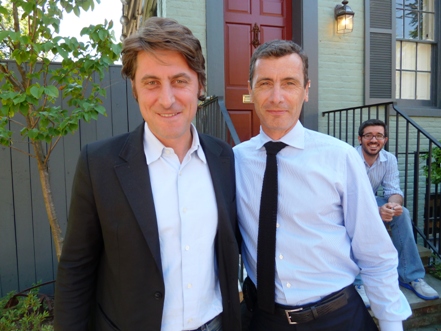 "For two month, since May 14, I've been sitting on the sidewalk in front of DSK's house." World news reporter for i>Télé, Baptiste Muchensturm, accustomed to covering stories in the Middle East said, "It's not very exciting." Dubbing Georgetown, "DSK Beach 2.0," Baptiste was enjoying a change of venue from the sidewalk on Franklin Street in Tribeca, before DSK's release from house arrest last month.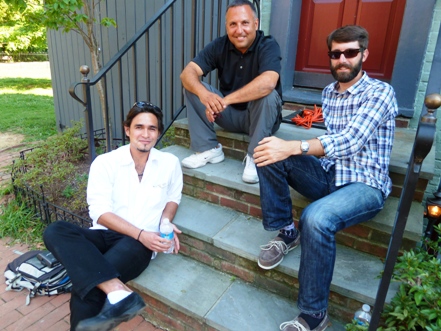 "We were shell-shocked." Fabien Ortiz from TF1 TV explained. "It's been a marathon." Thanks to a very understanding neighbor, the reporters charged batteries and enjoyed front row seats across the street for the second day.
Asked whether DSK has a chance of resurrecting his career, Fabien said, " Absolutely not. Perhaps as a godfather figure or king-maker, in an advisory capacity, but he's lost all popularity in France, especially with women." On Anne Sinclair, "At TF1, Anne Sinclair is the star journalist. She's like Barbara Walters." Anne Sinclair, a French television and radio interviewer hosted a popular political show for more than 13 years on TF1, the largest European private TV channel. On their marriage, Fabian said, "The relationship is true affection. It's love."
When DSK leaves Washington, for Fabien, it's on to other states, covering American politics. "The French people love President Obama, so they're not so much interested in the Republican primaries, but there's always something interesting ..."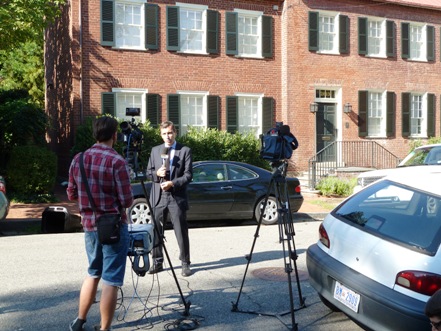 While DSK appeared to remain home all day, visitors were seen coming and going, starting in the morning with, as the reporters speculated, three groups of real estate representatives arriving and leaving separately.
Late afternoon, shortly before 5 pm, two men arrived by limousine and stayed for about an hour.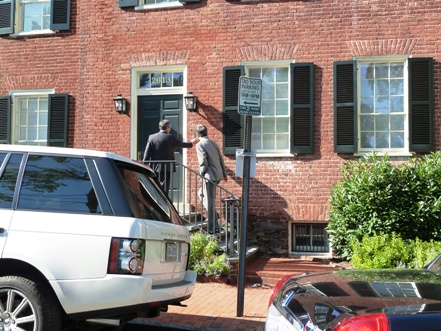 Anne Sinclair, in a white jacket and jeans left the home at 5:24 pm with the blonde woman seen earlier in the day, drove away in a black Audi, and returned at 6:40 pm carrying several bags including one from Whole Foods.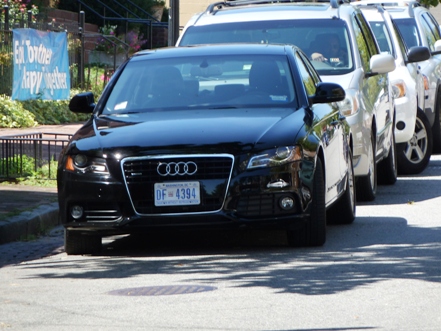 Tomorrow is another day.