Drinkin' Whisky and Rye at Catoctin Creek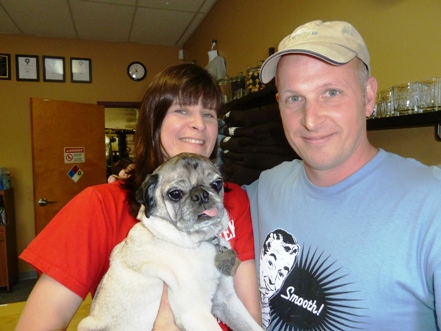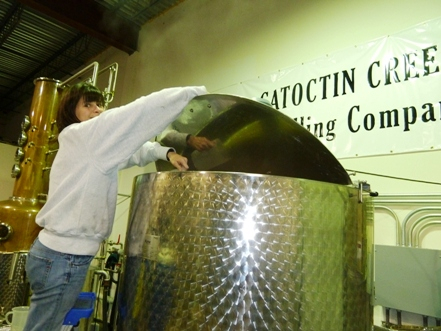 "Twenty years in government taught me a great love of drinking, and to be a connoisseur of spirits," said Scott Harris. Together with his wife Becky, a chemical engineer and Frank, pug extraordinaire, the family business is now a "from farm to bottle" enterprise.
Stunning but true, Catoctin Creek Distillery is the first commercial distillery in Loudoun County since Prohibition. One of only a dozen distilleries in the state, Harris started his Purcellville facility in 2010.
Cows need cocktails too, so local farmers visit weekly for the mash ... helping make Catoctin Creek a zero waste facility.
The Georgetown Dish had a private tour as the Harris' prepared the rye mash first breaking down the sugar before adding the yeast.. As Scott says, "Its porridge consistency makes a great beer smoothie." The brown color comes from the Minnesota White Oak barrels.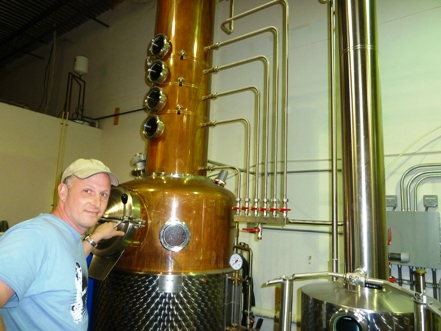 For their aged brandy, nothing but the best French Bordeaux barrels will do.
This year, for the first time available, their brandy will be made with 100% Loudon county grapes from wineries within 10 miles, aged in red wine barrels.
"Rye is America's spirit," Scott explained. "The original mixer, what cocktails were designed for."
Before the next episode of Mad Men, chill some glasses for a Catoctin Creek Manhattan:
2 oz Catoctin Creek Roundstone Rye
1 oz Carpano sweet red Italian vermouth
1 dash Maraschino cherry juice
Maraschino cherry for garnish
Pour into a mixing glass wih crushed ice, stir, strain into a cocktail glass, garnish with a Maraschino cherry.
By the way, their Waterhed Gin is made made from the same rye mash used to make the Roundstone Rye.
Look for Mosby's Spirit (grain spirits distilled from rye) in local restaurants soon.
Visit Catoctin Creek Distilling Company for more information.