Dreams Do Come True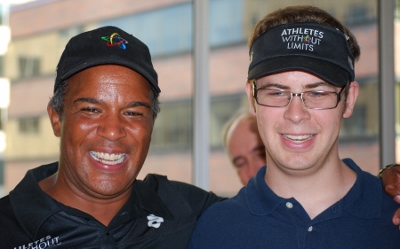 Athletes Without Limits and its founding president coach Barry Holman were spotlighted at a summer fundraiser Tuesday night organized by Beasley Real Estate to benefit the inspired organization that makes dreams come true.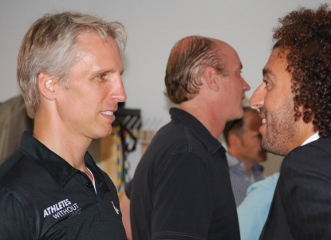 Disabled rowers who are part of that dream are U.S. Marine Sgt. Rob Jones, 25, and Oksana Masters, 23, who have qualified as a team to compete in London in the Paralympic Games. Jones lost his legs in an IED (explosion) in Afghanistan. Masters lost hers as a child while exposed to radiation poisoning from the Chernobyl nuclear disaster. (www.teambadcompanyrowing.com)
And, oh yes, a little research showed the stunningly beautiful Ukraine-born Masters in ESPN's 2012 Body Issue sitting on a jetty with her oars beside her, showing her toned physique and tiny tattoos.
Athletes Without Limits athlete Michael Murray, 21, of Nashville, Tn., has earned the historic opportunity to be the first athlete with an intellectual disability to compete for Team USA at the upcoming London games. He qualified for the U.S. Paralympic Track Team.
The games run from August 29 until September 9.
Athletes Without Limits has partnered with DC Strokes and the US Paralympic Military Program to form an integrated team of athletes to train and race together.
The rowing program is a driving force in D.C, with a strong volunteer contingent and 20 active athletes.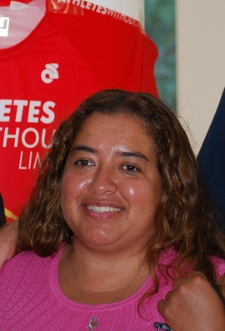 "We are breaking down perceptions that rowers with disabilities cannot row by themselves," said DC rowing program director Patrick L. Johnson. He also coaches rowing at Wakefield High School. Local rowers practice at the Anacostia Community Boathouse, where each athlete practices two or three times a week.
"It's about integration not separation," emphasized Johnson, saying, for example, that a rower with a disability can aid someone with a different disability. Aptly proving that point were photographs on display of Claudia Perry, 34, of Silver Spring, Md., a blind rower who served in the Air Force, assisting a rower on prosthetic legs navigate a dock.
At the event at Balance Sport and Fitness gym near Thomas Circle, rower Michael Lautenberger, 21, also of Silver Spring, Md., helped showcase the mission with Holman and Johnson.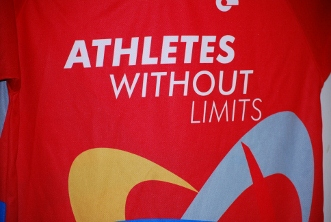 Athletes Without Limits is a nonprofit group that helps athletes with intellectual disability integrate and accelerate in sport. It also hosts the program with rowers with physical disabilities.