Don't Sink Your Teeth Into This ... It's Eye Candy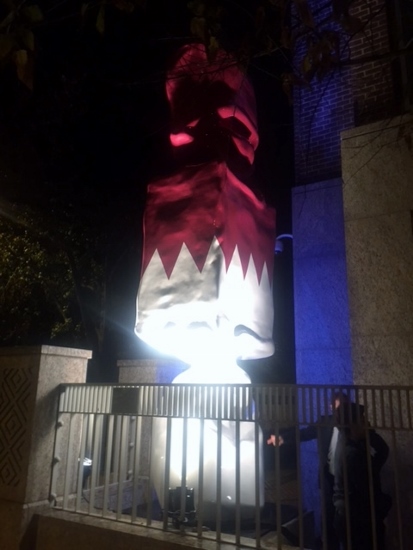 The Qatar Embassy unveiled Tuesday night a lovely piece of wrapped candy. Flag candy sculpture, that is. And it's big.
So now, on M Street going into Georgetown from the West End, the burgundy-and-white polyester sculpture -- at 5 meters tall -- greets the eye on Qatar property at the main entrance. The colors represent the national flag of Qatar.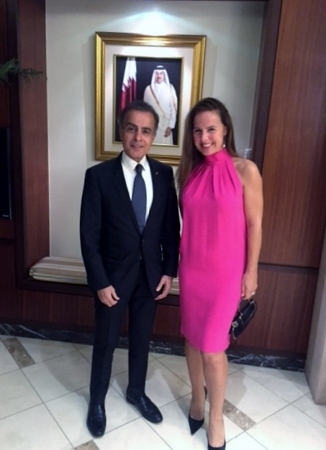 It's the work of self-taught French artist Laurence Jenkell, who was at the embassy for the unveiling with Qatar Ambassador Mohammed Jaham Al-Kuwari and some 100 invited guests.
Jenkell, who lives and works in Vallauris, Alpes-Maritimes, has mastered her own novel technique of manipulating Plexiglass. The work is rooted in Pop Art and New Realism. Her sculpture have been displayed around the world in various venues, including at the Embassy of the State of Qatar in Paris. Her candy-inspired sculptures are internationally recognized.
Underscoring the international flair, the ceremony was attended by several members of the DC Commission on the Arts and Humanities, including chair Kay Kendall and members Rhona Wolfe Friedman, Gretchen B. Wharton and Jose Alberto Ucles. Also attending was the new commission executive director, Arthur Espinoza Jr.
Elvi Moore, former Washington Ballet general director and founder/president at the Laurel Fund for the Performing Arts, was among the guests.
Real candy was given out at the reception area, along with an array of cuisine.