Don't put your head in the sand ...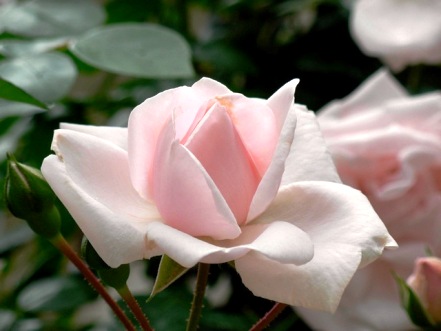 September is always hard. Summer is over, daylight hours are waning, and the bad news in the headlines is jarring. With hurricanes pumping up the Atlantic, budget wrangling getting into high gear, and Greece on the brink, I need a respite. And I'm just back from vacation!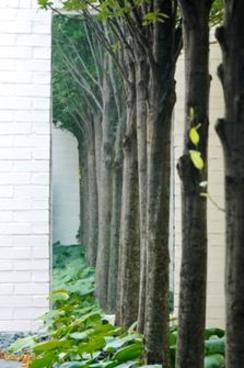 It is a blessing then, to enter one of Georgetown's newest "secret" gardens, one that blends order, beauty, and simplicity into a soothing retreat. Belgian designer, Katia Goffin of Scott Brinitzer Design Associates, who brings a unique blend of European and American aesthetics to her work, designed it. Her brief was to fuse a 21st century garden with a stylishly renovated 19th century house. The result is a graceful space that is more complicated than it first appears. As Katia says, "gardens – the hardscape as well as the plants, are a search to put the right elements together".
The owner (we will call him "O") is a self-proclaimed garden and plant enthusiast whose avocation is -- gardens. His desire was to build a garden to be nurtured for years to come and to be "an oasis in the middle of the city". It truly is. I am struck by its simplicity and logic and then, an instant later, by it's subtle whimsy and detail.
To enter the garden, I crossed the threshold of a pair of glass doors leading from the foyer into a two-room parallel universe: a serene, orderly garden embedded in but apart from the bustle and commerce of Georgetown. Along the right side of the garden is a line of tall, specimen hornbeams. O and Katia handpicked them to screen the garden from its urban surroundings thereby achieving an instant sense of intimacy. I love these trees for their smooth, sinuous gray bark and their tidy stately structure. They hold their leaves, dried and papery light brown, well into winter. Beneath them, Katia planted hostas, the broad blue leaves softening both the upright trees and the flagstone paving. At the end of the hornbeams is a jog in the wall that could easily have been just a corner, but a brilliantly placed mirror turns it into a reflection of tree trunks and hostas, extending the architecture of these elements into another far-away dimension.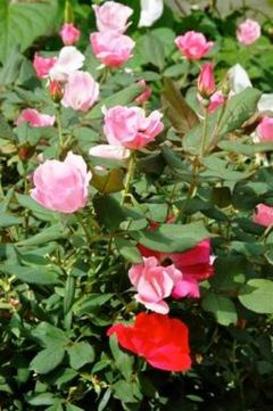 Opposite, white wooden columns support what was once a classic sleeping porch. Renovated, it remains a lovely porch with oversized and inviting modern furniture. Wisteria (Wisteria sinensis, a vine imported from China just after the War of 1812), planted at the base of each column will, in years to come, add a languid sense of southern elegance to the garden. O, who loves the idea of a vine-enveloped porch, is looking forward to watching the now-slender wisteria stems develop their mature ropey, twisted character, and to the first fragrant purple blossoms in spring followed by the fuzzy, green pods in summer.
As I moved through this room, I was attracted by the sound of water spilling into water from the second of the two garden rooms. Investigating, I saw a classic, dark gray cherubic face on a white rear wall, gently spouting water into a long narrow pool. Water sounds are tricky in the garden. They can often create the annoying sense that someone has left a faucet running. This one is well tuned and does a marvelous job of enhancing the intimacy of the space. O plans to have fish in the pool, still another living dimension to his garden.
To the left of this room is second tall planting of trees, gingkos (ginko biloba), planted in a sort of narrow allee for privacy. O loves them, pointing out that ginkgos are the only trees with perfectly semi-circular leaves.
A cheerful profusion of pink and white "Knockout" roses bloom boldly beneath these trees. Knockout roses were specifically bred to be disease resistant, cold hardy, and good repeat bloomers, all-essential attributes in humid Georgetown. Katia and O planted ornamental onions among them for mid-spring interest. The species they chose, allium giganteum, bears large balls of tiny purple flowers which O tells me help keep aphids and white fly away, a smart precaution.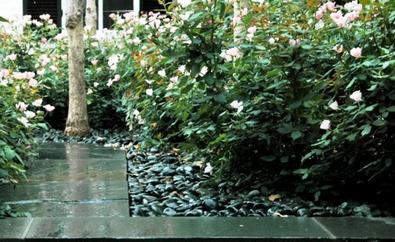 On the white painted walls surrounding this room, there is a large grid of stainless steel wires on which moonflowers, (Ipomoea alba), are trained. These annual vines bear a sun-loving pure white, vespertine flower, about 4-8 inches wide. "Vespertine" (my natty new word) means that they bloom at night. Every evening, O's garden is suffused with a heavenly fragrance that attracts hummingbird moths. The contrast of the gridded wire arrangement and the vines' whimsical, oversized leaves, twisted buds, and flowers is delightful.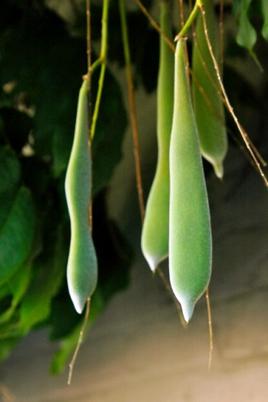 On the walls at the end of the garden and over a well-camouflaged garage, O and Katia have paired New Dawn rose (soft pinkish white) and Eden roses (soft whitish pink). Next year, they will add a third pinkish rose, "Apple Blossom", to the ensemble. O has roots in Nantucket, and looks forward to the day that the garage is entirely covered in roses, like the rose-covered cottages he grew up with.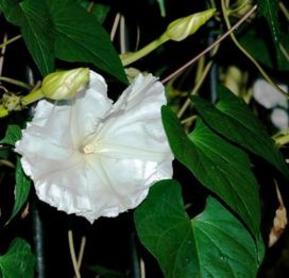 The garden is well mulched with smooth river stones, about 2-3 inches in diameter. The stones are a lovely soft gray on dry days and shimmery charcoal gray on rainy days, reflecting light where it's least expected. I imagine that a winter's frost would sprinkle ephemeral patterns of silvery white ice crystals on and among the dark stones, an enchanting thought. In the early spring, the gray river stones serve provide contrast to the blue grape hyacinths blooming beneath the well-formed light pink Saucer Magnolia (magnolia souliangiana). Katia remarks that searching for this magnolia was a Goldilocks experience because they searched a long while before finding "just the right tree".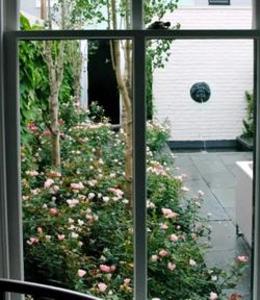 One final, wonderful feature of this garden is its powerful connection with the interior of the house. This intentional connection is critical because the foyer, dining room, and kitchen all look out onto different parts of the garden. No matter what time of year, this garden is a beautiful and integral complement to the home's antiques and warm woods.
Back to reality. The next time I'm overwhelmed by the headlines, I think I will just close my eyes and think about this retreat. It's better than putting my head in sand!