Domino's Plans Glover Park Move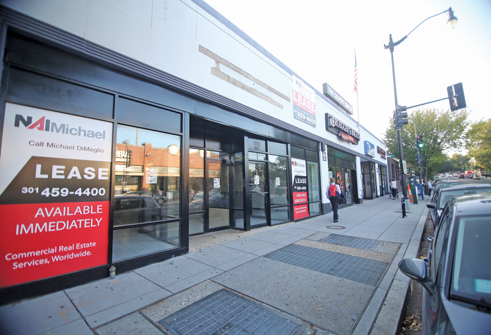 By Grace BirdCurrent Staff WriterDomino's is planning to open a Glover Park location, amid a chorus of opposition from residents and small-business owners concerned that a fast-food restaurant would attract rubbish, rodents and late-night noise to the area.The pizza chain intends to lease part of the Calvert Center at 2330 Wisconsin Ave. NW to operate a dine-in and carry-out restaurant, with the other half of the space formerly used by the El Salvadoran consulate remaining vacant for now. The new Domino's would replace a location at 3255 Prospect St. NW in Georgetown, which is slated for redevelopment into an apartment building.However, the Glover Park site's land-use designation requires fast-food or food-delivery establishments — of which Domino's would be both — to secure special exception approval from the Board of Zoning Adjustment. Advisory Neighborhood Commission 3B (Glover Park, Cathedral Heights) is set to vote on the application Nov. 2, and a zoning hearing is slated for Nov. 8.Jackie Blumenthal, chair of ANC 3B, told The Current that while she wasn't pleased about "another pizza place" opening in Glover Park, an empty storefront was the alternative."The space has been vacant for a long time," she said. "My goal is to work with Domino's to attach conditions to the zoning order to try to come to some compromise on conditions that meet the needs of the neighborhood."Conditions could include having the Domino's delivery drivers park on the street in front of the location late at night, rather than the alley and parking lot that would be used at other times. The change would reduce the impact on residents who live across the alley, commissioners say.In its zoning application, Domino's notes that the presence of several nearby fast-food establishments — Chipotle, Bruegger's Bagels and Einstein's — demonstrate that the proposed use fits squarely within the neighborhood's existing character. Chipotle, located at 2338 Wisconsin Ave. NW, received a zoning exception in 2010 for its fast-food operation.Glover Park's business district already has a series of restaurants with pizza on the menu, including Casolare Ristorante, Arcuri, Cafe Romeo's, Paisano's Pizza and Angelico Pizzeria.Many residents and businesses aren't surprised that a big chain is moving into Glover Park, saying exorbitant rents squeeze out others."Two cents from a local business owner," Justine Bernard, who has owned Elements Fitness & Wellness Center across the street from the planned Domino's for 11 years, wrote on the neighborhood listserv, "the rent is outrageous. Makes it difficult for small local businesses. We are priced out of signage and street level retail space, while larger chain-companies with similar services move in."Bruce MacClellan, a resident of 37th Street NW, opposed Domino's application in an Oct. 1 statement, citing concerns about rodents and delivery drivers."Within 150 feet there are 5+ children under the age of 9 who are often walking to school and around the neighborhood," MacClellan wrote.Operating hours of the Glover Park Domino's are yet to be confirmed. The Prospect Street location and another nearby Domino's in Tenleytown are open from 10 a.m. to 2 a.m. on weekdays, and until 3 a.m. on Friday and Saturday nights.ANC 3B is asking residents to share feedback with the commission about the Domino's proposal before commissioners vote at their Nov. 2 meeting.
This article appears in the Oct. 18 issue of The Georgetown Current newspaper.