Dolley Madison Talk at Dumbarton House Aug. 13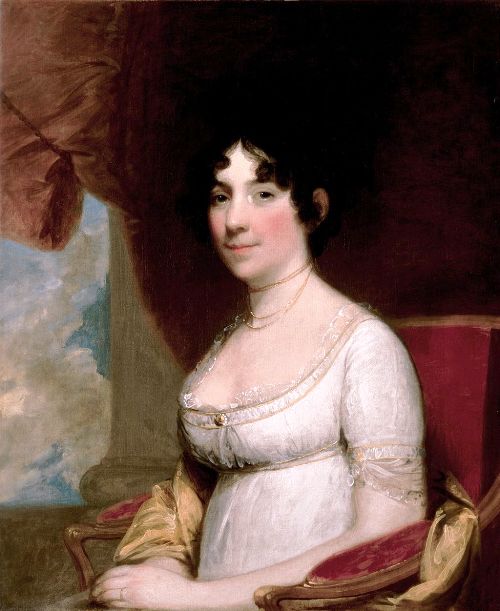 To commemorate the Bicentennial of the War of 1812, and Washington City's role in this historic event, Dumbarton House is holding a special Collections Conversation : Dolley Madison and the War of 1812 presented by Karen L. Daly, Executive Director, Dumbarton House NSCDA on Wednesday, August 13 at 12:30 pm.
On August 24, 1814, Dolley Madison was forced to flee the White House as British troops advanced upon Washington, D.C. in the War of 1812. Charles Carroll, the owner of Belle Vue, as Dumbarton House was then named, called on her in his carriage. Dolley recalled the events in a letter to her sister Lucy Payne Washington Todd:
"Our kind friend, Mr. Carroll, has come to hasten my departure, and is in a very bad humour with me because I insist on waiting until the large picture of General Washington is secured, and it requires to be unscrewed from the wall. This process was found too tedious for these perilous moments; I have ordered the frame to be broken, and the canvas taken out. It is done! and the precious portrait placed in the hands of two gentlemen from New York, for safekeeping.
And now, dear sister, I must leave this house, or the retreating army will make me a prisoner in it by filling up the road I am directed to take. When I shall again write to you, or where I shall be tomorrow, I cannot tell!"
[Dolley Madison Papers, Manuscript Division,The Library of Congress]
Learn more about Dolley Madison's exciting flight from the White House and her stop at Dumbarton House through research by author Anthony Pitch and the collections of Dumbarton House. The talk will feature items on loan for the exhibition "Homefront 1812: Friends, Family & Foe" on view at Dumbarton House throughout Summer 2014.
Held in the museum's Belle Vue Room, this 30 minutes presentation is followed by 15 minutes of Q & A, as time allows.
Reservations are not required -- but to be sure they have a seat for you, let them know you're coming.
Parking is free but limited (behind the garden at 27th and Q Streets NW).