Do you CaBi yet?
In a generation consumed by eco- friendly and economically savvy initiatives, America's capital has gone back to the basics with the implementation of Capital Bikeshare, the nation's largest public bike-sharing program.
What started with 120 bikes in September 2010, Capital Bikeshare has grown successfully. Today, the program offers over 1,100 bikes in 108 stations: three of which are located within the Georgetown area.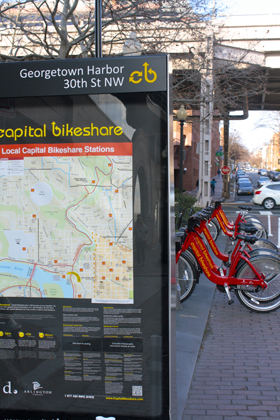 With the increased availability and accessibility of an alternative—and often easier—mode of transportation, Georgetown residents are hitting the streets. But the concern over bike riders' safety along Georgetown's traffic infested roads remains.
"The main strip is so congested with car traffic," said El, a Capital Bikeshare user at the Georgetown Wisconsin and Canal Street dock. "It makes biking more difficult here [in Georgetown] than other parts of town," she added, slipping her sturdy, fire- truck red CaBi bike into its dock. A green light flashes on her bike's dock, a signal that the bike has been securely returned.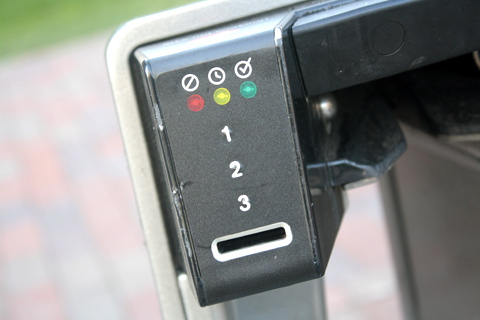 The historic nature of Georgetown poses as a difficulty in finding available public space for riders to cycle, in addition to Capital Bikeshare to implement bikeshare locations. "We've worked with the community to try to identify the best places for [bikeshare locations]," said John Lisle, the spokesperson for the District Department of Transportation. "The feedback has been great. We're not getting complaints and the system has been adopted well by [Georgetown] residents and students."
Cycletracks, bike lanes on the side of roads, are a work in progress in the Georgetown area. District Department of Transportation intends to create M and L Street cycletracks for 2012. The cycletracks will "get more bicycles out and cars will get more used to seeing the bikes," said Georgetown bike rider, Scott Osberg. "D.C. residents," he added, just don't know how to drive alongside bikers.
For bikers looking for an escape from the city traffic, however, the Georgetown area has much to offer. The Capital Crescent Trail, a hard-paved, 11 mile path, allows riders to coast through the sights of Georgetown into the heart of Silver Spring, Md. The 184 mile Chesapeake and Ohio Towpath features a flat, clay stone path that follows the Potomac from Georgetown to Cumberland, Md. The lengthy bike route treats riders with views of the Great Falls, River Aqueduct and Paw Paw Tunnel.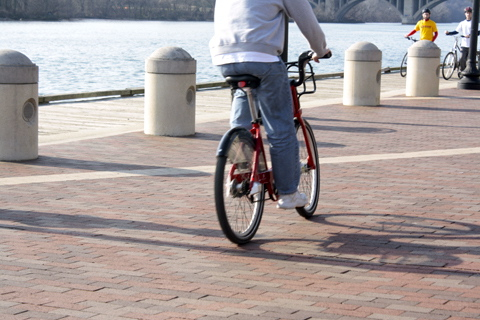 And so with spring temperatures (so far) during winter months, slip on the biking gear, grab the credit card (the Bikeshare machines are credit card only!), strap on a helmet and set out to a Capital Bikeshare location near you.
Your relaxing ride awaits.
Georgetown Capital Bikeshare Locations:
C & O Canal and Wisconsin Avenue, NW
Georgetown Harbor/30th Street, NW 37th
O Street, NW/Georgetown University
First time CaBi renter? The process is simple and stress- free!
Riders looking to rent a bike for a 24- hour period or 3- day stretch can process the rental directly at a Capital Bikeshare station. Both options come with a standard flat fee (24 hrs- $7, 3- day: $15). The first 30 minutes are free. A cost is added for additional time of use. Refer to the station panel or click here for more information.
Once you have swiped your card at the station, the screen will reveal a five digit unlocking number. Use the code to unlock a bike at any one of the available docks.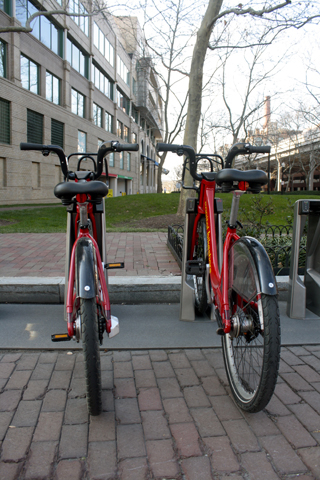 Return your bike to any station. Spotcycle, a bikeshare smartphone application, provides a convenient way to find a nearby station, in addition to checking the availability of the docks. If you find that your intended station is full, the Capital Bikeshare machine allows a time credit option, providing the bike user 15 additional minutes—free of charge—to ride to a nearby station.
Looking for a month or annual membership? Browse the Capital Bikeshare website and follow the links to join.