Dixie Liquor Seeking to Reopen in March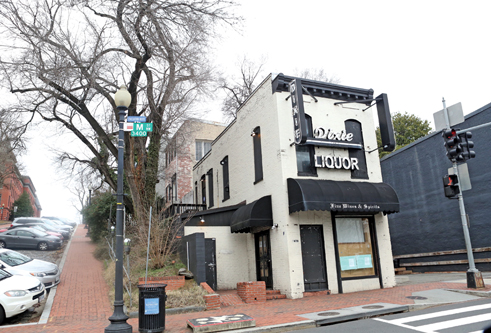 By Mark LiebermanCurrent Staff Writer
A storied Georgetown liquor store that has clashed with the community numerous times through various incarnations over the years is making a comeback.
Dixie Liquor, located at 3429 M St. NW near the foot of the Key Bridge, will reopen in roughly mid-to-late March under the ownership of Jason Lim and his wife Soo Hyun Lim, who also own The Market at Columbia Plaza near George Washington University.
Residents who have caught wind of the news expressed preliminary concerns at a meeting Monday night, though Jason Lim said in an interview that he's prepared to work productively with the community.
The store, founded in 1934 by the Miller family, has long been a draw for nearby Georgetown University students, with disputes cropping up over the years over the leniency of the store's policies for checking identification. In 2005, the alcohol administration suspended the store's liquor license for 30 days for selling kegs without proper registration.
The store has undergone several ownership changes, and The Georgetowner reported last year that Dixie Liquor's most recent iteration closed in July. Last fall, the store's previous owners placed its liquor license in "safekeeping," in which they retain the license despite not applying it to an operating business. That license will remain in safekeeping until at least March 31, 2017.
In December, the Lims applied to transfer a liquor license to the shuttered M Street shop from Best DC Supermarket on U Street NW, which closed last April. The whole purchase, including inventory, cost $500,000, Lim said. Their application says that the new store could be open from 9 a.m. to midnight seven days a week, but Lim told The Current that he's currently planning to stay open until 10 p.m. on weekdays and 11 p.m. on weekends.
Customers familiar with the old store can expect some interior changes as well, Lim said — new furnishings, an expanded selection and more consistent service. Lim, who lives in Fairfax, Va., said he's heard that previous owners would open late, close early and leave in the middle of the day while the store was open, but he plans to be more reliable.
Community members haven't yet dealt directly with the new owners, but they see cause for concern. At Monday's meeting of Advisory Neighborhood Commission 2E (Georgetown, Burleith), Cookie Cruse of the Citizens Association of Georgetown said she wants the opportunity to review the store's plans, given its troubled history. She's concerned about the proposed hours, which could have the store open later than it was previously, as well as its approaches to selling kegs and serving alcohol to Georgetown University students.
"This is the type of thing that needs to be vetted by the community," she said.
Fellow Citizens Association member John Lever and another resident supported Cruse's trepidations.
"I'm not saying that the new folks are going to do anything illicit or wrong in any way," Lever said. "But an abundance of caution is necessary."
ANC 2E had opted not to take a position on the liquor license because members found no record of an existing or previous settlement agreement with the establishment. Lim, meanwhile, told The Current he has experience preventing underage drinking near George Washington University.
Lim said he wants to "have a good relationship with the customers, treat them like family." The store appealed to him and his wife because of its prime location, he said.
"It was an empty space. We just thought Dixie Liquor has a long history," Lim said. "We thought we should just take over it and see how it goes."
He and his wife had conversations with the Millers prior to signing the lease, and he found them "very supportive and helpful."
Aside from community conflicts, the store boasts a history of high-profile guests, none more famous than John F. Kennedy. A page on the Georgetown Business Improvement District website includes a statement from previous Dixie Liquor owners, who said they're proud of the store's heritage as "the oldest liquor store in D.C."
An initial hearing on the requested transfer of Best DC's old liquor license to Dixie is scheduled for Feb. 21 at 10 a.m. if anyone brings forward an objection.
This article appears in the Feb. 1 issue of The Georgetown Current newspaper.