Divine Decor to Divine Inspiration: WDC Becomes Bible Museum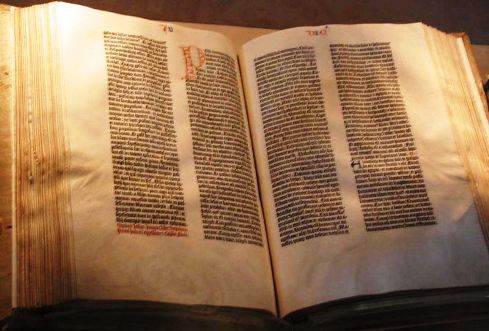 The Museum of the Bible, a 501(c)3 nonprofit organization announced Thursday, July 26, 2012 their purchase of the Washington Design Center (WDC), located at 300 D Street SW, Washington, D.C. for $50 million. The building is part of a larger sale totalling $200 million.
According to Chandler Epp, spokesperson for DeMoss Group, "The site was selected as the location for a yet-to-be-named museum to house The Green Collection, the world's largest private collection of rare biblical texts and artifacts.
"After an 18-month search in cities including Dallas and New York, the museum's board chose the nation's capital—a destination known for its world-class museums—to be the location of this future museum," said Mark DeMoss, spokesperson for the Museum of the Bible and member of its board.
Plans include reconfiguring the WDC into a non-sectarian, scholarly-focused, national museum that will illustrate how the Bible came to be, its impact on the world throughout the ages and the story that is told in this best-selling book of all time.
The future museum will house The Green Collection, which has 55,000 ancient biblical texts and artifacts—including one of the world's largest private collections of Dead Sea Scrolls, the earliest-surviving New Testament texts in Jesus' household language and other antiquities dating from the first century BCE to Torah scrolls that survived the Holocaust. The museum also plans to display items borrowed from other prominent collections from around the world.
With several years from opening, no design plans, construction timelines or completion dates are yet available.
"Our intent is for this museum to showcase both the Old and New Testaments, arguably the world's most significant pieces of literature, through a non-sectarian, scholarly approach that makes the history, scholarship and impact of the Bible on virtually every facet of society accessible to everyone," said DeMoss.
Items from The Green Collection continue to be displayed around the world through traveling exhibitions.
About The Green Collection
Named after The Green Family (founders and leaders of Hobby Lobby, the world's largest privately owned art and crafts retailer), The Green Collection is the world's largest private collection of rare biblical texts and artifacts.
The Green Collection includes:
Codex Climaci Rescriptus, known as Incial 0250 (in the Gregory-Aland numbering)
The second-largest private collectionof Dead Sea Scrolls, all of which are unpublished
The world's largest private collection of Jewish scrolls, including Torahs that survived the Spanish Inquisition, scrolls confiscated by the Nazis and recovered in concentration camps and others from across the globe
One of the world's largest holdings of unpublished biblical and classical papyri, including texts that date back to the lostLibrary of Alexandria
Rare illuminated manuscripts and previously unknown biblical texts and commentaries
The earliest-known, near-complete translation of the Psalms in Middle English, including the Canticles and commentary predating Wycliffe's translation
Some of the earliest printed texts, including a large portion of the Gutenberg Bible and the world's only complete Block Bible in private hands
Early tracts and Bibles belonging to Martin Luther, including a little-known letter written the night before his excommunication
Numerous items illustrating the contribution of Jews and Catholics to theKing James translation of the Bible and other historical artifacts