District prepares for possible closure of Georgetown DMV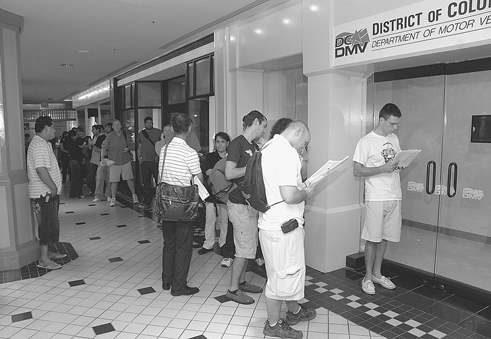 By Brady Holt
Current Staff Writer
The District has begun to search for a possible replacement site for its Georgetown branch of the Department of Motor Vehicles in case renovations to the Shops at Georgetown Park force the city to leave the mall, according to an official in the D.C. Department of Real Estate Services.
The official, who asked not to be identified because only the agency director is authorized to speak to reporters, emphasized that the city has no immediate plans to leave its location at 3222 M St., but noted that either the mall owner or the District may break the lease with a 90-day notice.
Some tenants at the mall have already been told their leases are ending, and because it would take the District longer than 90 days to select and refurbish a new site, the real estate department decided to select a location in advance just in case, the official said. The lease runs through 2014. "This is not a guarantee that we're definitely leaving 3222 M St.," the official said.
Wendi Kopsick, a spokesperson for mall owner Vornado Realty Trust, said the firm doesn't comment on "tenant-related matters."
According to the District's "Solicitation for Offers" document, officials are looking for 6,000 to 7,000 square feet of space -- preferably a first-floor retail spot that opens to the street -- somewhere in Northeast or Northwest within 1,500 feet of a Metrorail station. The Georgetown location is within a shopping mall and accessible primarily by car or by bus.
The District is seeking offers by June 23. The Department of Real Estate Services will make a selection within 30 days, according to the official, at which point the city and the property owner would enter into preliminary negotiations. If the city elects to or is forced to leave the Georgetown mall, it would negotiate a full lease agreement with the new landlord, the official said.
This article appears in the June 8 issue of The Georgetown Current newspaper.