Dire Predictions Give Way to Minor Damage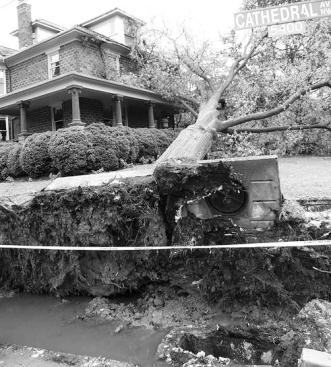 By Brady HoltCurrent Staff Writer
District residents expecting widespread damage and power outages from Hurricane Sandy instead found themselves with electricity to watch news reports about the brunt of the storm striking farther north.
In comparison to the June "derecho" storm or last year's Hurricane Irene, Sandy packed a relatively light punch in the D.C. region. Mayor Vincent Gray said at a news conference yesterday afternoon that the storm "turned out a whole lot better than expected" for the District. He said he knew of no fatalities or injuries from Sandy within the city.
"We were relatively fortunate," Ward 3 D.C. Council member Mary Cheh said in an interview yesterday. "We've had some trees down, some spot flooding and some power outages, but hardly what might have happened."
More than 10,000 Pepco customers lost power citywide, compared to 64,000 in the wake of the derecho. All but 2,000 had been restored by midday yesterday, and officials said any remaining outages should be restored by tonight. "My sense is they worked really hard to try to address the disappointments of the past," Gray said of Pepco's performance. A Pepco spokesperson didn't respond to calls.
Ward 4 Council member Muriel Bowser, whose home was temporarily without electricity, credited Pepco for a "rapid" response in her ward. "Even in the places where we lost power … they were up within hours, some within an hour," she said.
Cheh also noted that Pepco responded particularly quickly to an outage at the Methodist Home of D.C. retirement community at 4901 Connecticut Ave.
D.C. Department of Transportation spokesperson John Lisle said most major roadways stayed clear and most traffic signals stayed lit. There was flooding on Canal Road and Rock Creek Parkway, and tree debris temporarily blocked a lane of Foxhall Road.
The city has fielded 236 reports of tree damage, including 187 trees that had fallen entirely, but Lisle said that might include multiple reports of the same tree. "That's not a huge number for us," he said. "For a big storm it's not unusual to get 1,000 to 2,000 service requests."
One large tree damaged a Chevy Chase home near Nebraska and Nevada avenues, and it featured prominently in TV news coverage. Gray said yesterday that he'd dropped by the 1900 block of Calvert Street to inspect the damage of a "huge" downed tree there.
In the Palisades, advisory neighborhood commission chair Stu Ross' Potomac Avenue house was dealt a glancing blow, with a tree knocking out windows on the second and third floor and damaging a roof over a porch.
"[The tree] didn't snap off — it brought up all the cement and the earth and the top of the sewer with it," said Ross, who estimated he was about 10 feet from where it landed. "If it had snapped and broken, it easily could have pivoted into the house."
The tree also missed the power lines, Ross said. "I was able to turn the lights on and find out where the hell the tree was."
More of Sandy's impact was felt in precautionary measures.
The city and federal governments were closed Monday and yesterday. The Washington Metropolitan Area Transit Authority suspended all Metrorail and Metrobus service until yesterday afternoon; the city followed suit with the DC Circulator and Capital Bikeshare. Car-sharing firm car2go first forbade parking in flood-prone areas, then temporarily disallowed trips altogether.
Residents with regular trash collections on Monday and Tuesday will have to wait until next week for their pickups, but the remainder of residents should see their regularly scheduled pickups this week.
D.C. public schools were closed both Monday and Tuesday, but they were scheduled to reopen today. Schools Chancellor Kaya Henderson said at a news conference that "a small handful of schools" had experienced power outages and problems like leaks.
Gray said 107 people rode out Monday night in D.C. shelters — including the Guy Mason and Emery recreation centers in Northwest — and 86 remained Tuesday morning. Some sought shelter because they were homeless; others because they had lost power.
Although the District may have skirted past the storm without major issues so far, officials warned that the flood risk may grow along the waterfront. A "whole lot of rain and wet snow from the mountains" could dump into the Potomac River and its tributaries upstream, impacted areas like Georgetown, according to Chris Geldart, director of the city's Homeland Security and Emergency Management Agency.
As far as flooding on D.C. streets, officials paid close attention to the area around Bloomingdale and LeDroit Park, which has been a problem spot during recent storms. With Sandy, though, flooding wasn't an issue there. George Hawkins, general manager of the D.C. Water and Sewer Authority, said there wasn't enough rainfall "to cause the backups" the neighborhood has seen in the past.
Recognizing the worse storm impacts farther north, Gray also said the District is "prepared to be helpful if we can" to harder-hit areas like New York City and parts of New Jersey.
Gray also noted that by declaring a state of emergency in the District before Sandy's landfall, he made the city eligible for federal assistance of up to 75 percent of the storm damage costs.
Current staff writer Katie Pearce contributed to this report.
This article appears in the Oct. 31 issue of The Georgetown Current newspaper.