Diplomats Gather at Hungarian Embassy For Pulitzer Salon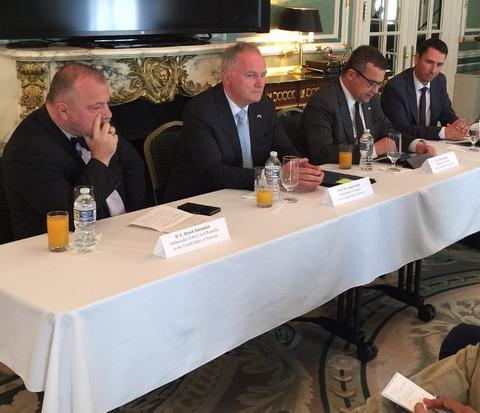 Hungary's new Ambassador to the United States, Dr. László Szabó and three colleagues from Central and Eastern Europe joined together at the Hungarian Embassy to stress that good political relations must be cultivated with the USA, both in the White House and in Congress.
"We must make ourselves relevant to America and that requires stating why good relations with Hungary are important," said Szabo. Poland's ambassador agreed, stressing that it is much more powerful to present to the United States that the four nations are an "alliance" and work as one on key issues.
That is, strength in unity.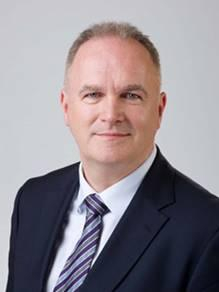 Participating in the seminar were Czech Republic Ambassador Hynek Kmoniček, Polish Ambassador Piotr Wilczek and Slovak Republic charge d'Affairs Jozef Polakovič. Among the issues discussed was the "political leverage" of these "Visegrad Four" nations with the Trump Administration.
Kmonicek, with a smile, noted that three of President Trump's children are half Czech. The President's first wife is of Czech heritage. First Lady Melania Trump is from Slovenia, also in Central/Eastern Europe.
Wilczek recalled that Trump has said that "78 percent of the Polish people" in the United States voted for him.
The four officials participated in the Pulitzer Salon, an ongoing activity, named after Joseph Pulitzer, the Hungarian-born American congressman and newspaper publisher. The salon offers an opportunity for American and Hungarian journalists to discuss current Hungarian-American bilateral relations, the integration of the western Balkan region and matters of global importance.
In an earlier Tweet on Aug. 14, the Hungarian ambassador wrote about the Charlottsville, Va., tragedy:
"Our thoughts and prayers are with the friends and family members of Heather Heyer. Hatred and violence have no place in society."
At the seminar, only matters relevant to the four countries were discussed.
The Hungarian ambassador is no stranger to America.
He was human resources director for the U.S. pharmaceutical giant Eli Lilly and spent several years working at the company's headquarters in Indianapolis, Ind.
More recently, he was parliamentary state secretary in the Hungarian Ministry of Foreign Affairs and Trade, and met with some of the largest U.S. companies and investors.