Dior Midsummer Champagne Toast Recap!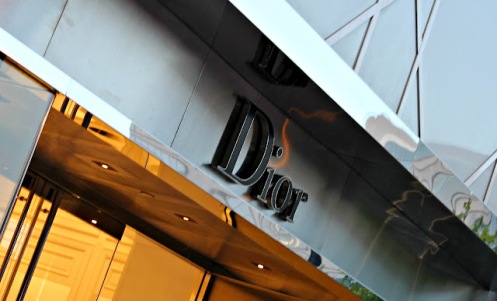 Last week, in celebration of my recent acquisition of the title Stylist with Dior, I hosted aMidsummer Champagne Toast at the Dior boutique in Chevy Chase. Fashion-tonians enjoyed delicious bites and bubbly as they were treated to a carefully curated informal presentation of my most-loved looks from the Fall 2012 RTW collection. A oeuvre d'art is how I described this jaw-dropping, aged bronze Gazar Dress to the audience as they "ooohed and ahhhhed". This gown is as close to haute couture as you can get in a RTW collection with it's lavish detailing that incorporates feathers, lace, and a hidden zipper - just a few of the Heritages of the House.
Photo Credit: Naiffer Photography
Photo Credit: Dominique Fierro
Photo Credit: Naiffer Photography One of the main reasons I J'adore Dior because there's an enchanting symbolism behind everything Christian Dior created, everything has a story and influence derived from Monsieur Dior's passions. M. Dior loved the art world - a shared passion the new Artistic Director of Dior, Raf Simons, has in common with the late Christian Dior - which along with his training in architecture and love for gardening played in to all of his creations. Dior embodies femininity, modernity, and elegance, all the things the Dior felt the modern woman should represent.
Photo Credit: Naiffer Photography Next up: a classic Dior piece - The Bar Jacket - in black paired with a charcoal grey mirror bubble skirt. The look features the jacket's soft rounded shoulders, cinched waist and overemphasized peplum on the hips - following M. Dior's ideals that women should be beautiful flowers - and the skirt gives way to coquettish legs offering an edgey look. Bit of history behind the Bar Jacket, when Dior first introduced the it to the fashion world in 1947, it was considered a declaration of modernity, glamour and femininity during a time that Europe was recovering from war times and named the "New Look" by a reporter from Life magazine as it changed the world of fashion as we know it today. The basic structure of the Bar Jacket has remained the same over the years, but has taken on different versions to keep it current with the fashions of today.
Photo Credit: K Street Magazine
Photo Credit: Naiffer Photography An audience stunner was this gorgeous dainty champagne silk gazar dress with beaded guipureembroidery, another oeuvre d'art! With its rich couture detailing in the lace and floral embroidery and the shapely and feminine silhouette, it's a showstopper of a piece for any upcoming holiday event you have to attend and something you won't see anyone else wearing given its limited availability. Dior knows how to make a woman feel like a woman and with it's soft coloring, cinched waist, flowers, lace and voluminous skirt, this dress will make you feel like THE lady of the night and like you should be walking down the avenues de Paris headed to a fancy soiree.
Photo Credit: Naiffer Photography
Photo Credit: M3lloYellow Red symbolized passion to M. Dior and is a signature Code of the House - meaning you will always see at least one look in red in the Haute Couture collections every season. Below is the Bar Jacket again in red paired with a charcoal grey turtleneck, a knee-length bubble skirt in a darker hue of red and belted with a black patent skinny belt. The architectural structure and lining of the jacket make it truly flattering, a unique detail in the Bar Jacket that typically you never see in jackets by other designers - theirs usually create a boxy look and reveal no shape. The great thing about both of these pieces is their versatility. The Bar Jacket can be dressed up or down, in the office or out to dinner, and the skirt could be worn sans the jacket for an evening out or holiday party.*Oh and note the turtleneck and it's elongated sleeves, and the black opaque tights paired with everything - these are THE TRENDS for Fall/Winter 2012 and I a look I absolutely LOVE! Tres chic!
The next look incorporated one of THE colors for Fall 2012 - purple - and is yet another of my most favorite looks! The violet dress is streamlined with a natural silhouette and has a simple and unadorned cut yet an incredible fit. Couture detailing can once again be found in the buttons along the sleeves and the setting of the lining and zipper. Paired with a fabulous cashmere/wool blend turtleneck bolero - an extremely limited piece - that's 1 of only 16 available in the US (flown in just for this event). The bolero is extremely funcitonable, you could wear it as seen over your dress in the office or out to dinner in lieu of a coat or wear it with a fitted top or button down and jeans with a pair of high-knee boots and a fierce handbag (the Granville in grey perhaps!? Oui, oui!)
Photo Credit: Naiffer Photography Next up, is at the top list of my favorites in my presentation - a breathtaking tenderness pink stretch silk draped dress paired with a bordeaux colored skinny belt - this dress is an absolute must-have! Worn as shown with tights it works in so many different environments and is seasonless. In the warmer months, wear it sans tights and a pair of rose-colored pumps! The dress features sculpting fabrics and shape giving way to the most flattering and slimming silhouette. The color - tenderness pink - was the color of the house M. Dior grew up in in Granville, France, and is associated with roses, one of M. Dior's favorite flowers. Another amazing look would be if you switch it out with a thicker black belt and wear it with knee-high chestnut brown boots. Divine!
Photo Credit: K Street Magazine
A classic red wool coat is a staple piece for every Fall/Winter wardrobe and this bright red double-faced wool coat is is a no-brainer, it will last a lifetime and the classic color and cut will never go out of style. (The inside of the coat is grey.) I paried with with a charcoal grey turtleneck and black tights - I LOVE black, grey and red together - it's a sort of a Little Red Riding Hood is all grown up in Dior look! :o) One aspect I love most about this coat is the scoopneck collar which allows for you to switch up the look when you wear it by pairing it with a turtleneck, button-down or a scarf. Becuase the coat is made to fit like it was tailored perfectly foryour body, it can be worn as a dress (how it's shown below) making it unlike any other coat I've ever owned.
Photo Credit: Naiffer PhotographyThe next look was sophisiticated and classic - a glorious black ruched dress (another one of the colors of the House). M. Dior believe black was the most elegant of colors and for him elegance was an absolute. True to Dior style, this dress flatters so nicely because of the give in the material, the heavy ruching and architectural elements to sculpt a perfect silhouette even in a not so perfect body. Once again this is something you can wear in so many different environments - out to dinner, to a cocktail party, in the office, etc. - and for someone who just had a baby the forgiving material of the dress allows me to wear it well with a few extra pounds. :o)
Photo Credit: Naiffer Photography
Photo Credit: Dominique Fierro Following the presentation, guests browsed through the magnifique boutique and have a look at "April's Favorites" - I placed grey stars my other most-loved pieces inside the boutique.
Photo Credit: Naiffer PhotographyThis Fashionista tried out one of my favorite Dior handbags, a nude-colored Granville with soft gold charms. Once again symbolism behind the charms you see attached on the bag come from M. Dior being a superstitious man so he carried charms in his pockets everywhere he went - thus, everyone knew when Dior entered the House as he would jingle and jangle when he walked. Hence why charms can be found on the Granville and the Lady Dior handbags and yet another enchanting tale behind a detail in a Dior piece. PS - how PERFECT does this Granville go with her outfit?! Love it!
Photo Credit: M3llo YellowAdorned in Dior bijoux I was in seventh heaven as I talked fashion and Dior for the rest of the evening! :o)
Mimi & Michelle from Intermix Georgetown, Kathy McPherson and Yours TrulyPhoto Credit: Naiffer Photography
Photo Credit: Naiffer Photography
Nichole Devolites listening to John's telling of the story behind The Lady Dior (which later became hers!) :o) Photo Credit: Naiffer Photography
Doss Alexander, Assistant Boutique Director at the 57th St. Dior Boutique in New York along with Jana Lerbach, Dept. Manager at the Chevy Chase Dior Boutique Photo Credit: Naiffer Photography
Angela Steever Diba, Micky Farviar & Dominique Fierro
Kathy McPherson (below) is now a Dior lady for life after trying on one of the dresses shown in the presentation. She didn't quite grasp my obsession with the Dior until she felt firsthand what I was raving about all these years, the dress fit like it was tailored just for her! She looked stunning in the tenderness pink silk stretch dress which is such a fantastic piece to add to your wardrobe not only because of the beauty of the dress - the draping compliments a woman's shape - but also because of it's versatility. This dress will have a very fulfilling life in any woman's wardrobe.
Kathy McPherson "A Dior Lady for life" wearing the Tenderness Pink Silk Stretch Dress
Photo Credit: Naiffer Photography
Photo Credit: Naiffer Photography
Photo Credit: Naiffer Photography One of the latest arrivals in the boutique for the event was this glorious black tweed Lady Dior covered in the bijoux I was wearing for the evening! (Starred as an "April's Favorites")
I can't get enough of tweed and this stone colored Miss Dior is a staple piece for every woman's Summer wardrobe!
Photo Credit: Naiffer Photography These sexy black lace and cream open-toed pumps were another "April's Favorites" and whether you dress them up with a pair of black dress pants with a button-down tucked in or with a dress, they'll go a long way with your wardrobe! Plus, the 5-inch heel and hidden platform will have your legs going on for miles! (They are also available in a fuschia/black lace combo.)
Photo Credit: Naiffer Photography Guests who so desired were given an intimate presentation of Dior's Capsule Watch Collection - The Huit (the number 8 in French) which was sent in just for the event in black and white. Created in Dior's watch shop in Switzerland the craftsmanship is superb and they look absolutely stunning on. It's the type of watch you could wear even when you dress up - when the lights hit the face it looks like diamonds are being reflected! I truly love this watch....ahhh, yet another item on the Lust List of mine. :o)
That about does it for the recap! As for now, I'm getting excited to see what Simons (who joined Dior in April 2012 after a 7-year tenure as Creative Director for Jil Sander) delivers in late September as he will debut his first Dior RTW collection, Spring 2013, in Paris. Following the rave reviews attached to his recent showing of Dior's Haute Couture Fall/Winter 2013 collection, I'm quite positive he will not disappoint.
A special thanks to the AMAZING team at the Dior Chevy Chase boutique - Jana, Janaina, John, Melissa and Xisca - without all of you this event wouldn't have been possible.
Thank you also to Jamie D'Agostino for providing your makeup artistry talents to the models - Rebekah Pianza and Jamie Bowersox. Merci to you all!
XOXO