Dining in Denim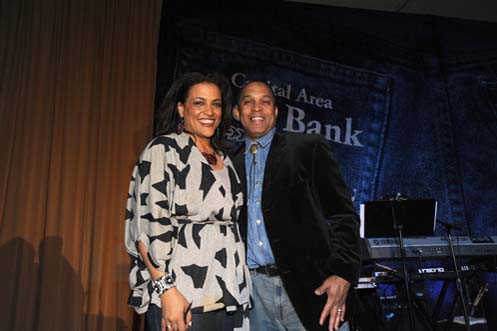 While Washington is known for its myriad of galas and black tie soirees, over 500 guests 86ed their designer garments in deference to classic denim and hit the Marriott Wardman Park this past Sunday for the 7th annual Blue Jeans Ball—a benefit for the Capital Area Food Bank.
Guests sampled signature dishes from over 30 restaurants including Morso, Citronelle, Georgetown Cupcakes, Ris, Occidental Grill & Seafood, Jackson 20, Eatonville, PS 7's, Black's Bar & Kitchen, Bezu, Farmers & Fishers along with many others. Another "sweet" addition to the event is the 30th Anniversary "Parade of Cakes" designed by Michel Richard, Josh Short of Buzz Bakery and other notable area pastry chefs.
Over $200,000 was raised to feed the homeless; $30,000 alone from the event's live auction (one item alone earned as much as $14,000) which had guests bidding for everything from Labrador puppies to a 'date' with Mix 107.3 personality Tommy McFly. Guests bidding increments of $500, $250, $100 and $50 raised funds for a goal of 50,000 meals.
Attendees included Gregory A. TenEyck, Public Affairs and Government Relations Director of Safeway, TGD's and Politics Daily's Emily Miller and Tara Palmeri half of The Examiner's Yeas and Nays duo and Donna Donella of Atlas Group.
Founded in 1980 on Martin Luther King Jr.'s birthday, the Capital Area Food Bank is the largest, nonprofit hunger and nutrition education resource in the Washington Metropolitan area. Since that time, they have expanded their services and annually distribute 23 million pounds of food to more than 383,000 people through a network of partner agencies.
The Capital Area Food Bank works to educate, empower and enlighten the community about the issues of hunger and nutrition. Their community-building initiatives, including Kids Cafe, Weekend Bag, Face Hunger, From the Ground Up, Sister Hook-Up, Produce for People, and the Brown Bag Program, educates the community about the importance of healthy diets and advocates for public policies that serve the interests of our constituencies.