Digest Design IV: On Deck With Martha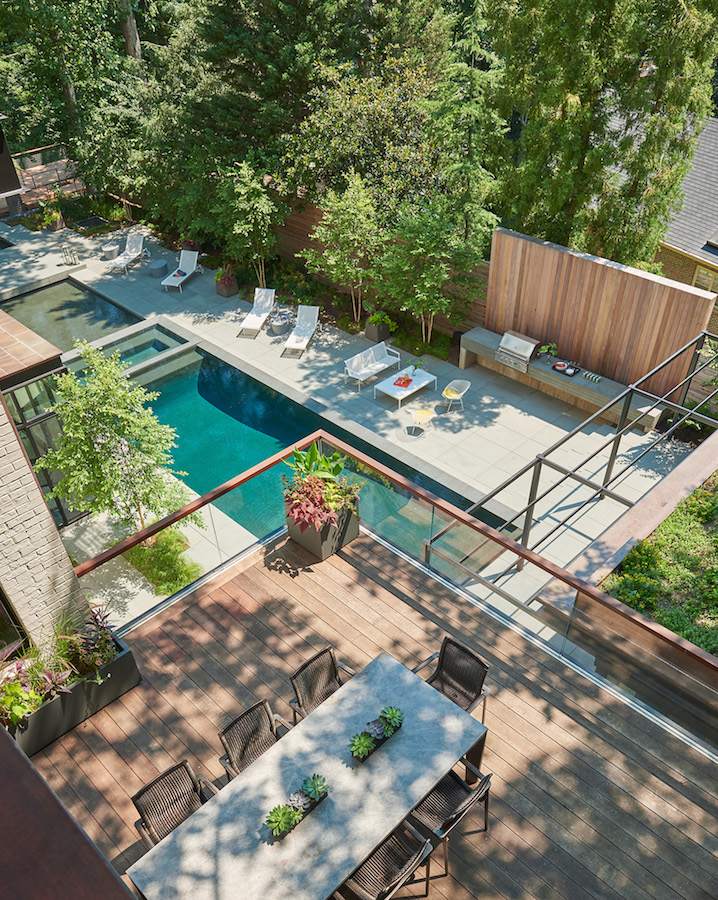 I recently toured one of Vicas Interiors' completed projects, a spectacular new build modern McLean residence. Martha was placing patio furniture on the deck above the pool area and explaining the elaborate landscaping required to build a hill around the putting green.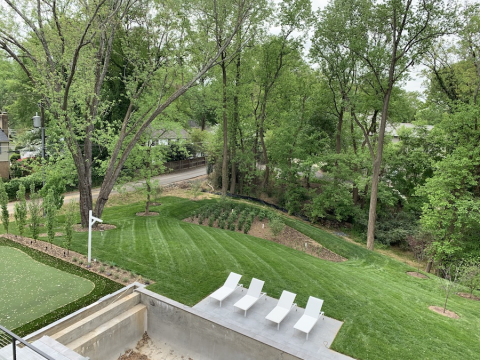 DISH: Every project is different and by the time you focus on a client's outdoor space, you know their style and budget. What is your primary objective/vision that is a constant? VICAS: The outdoors is an extension of their indoor living space so it should have the same feel and style. It should be a "room" and not depart from the style inside. Outdoor finishing is a major investment. Good furniture will last and look great for many many years.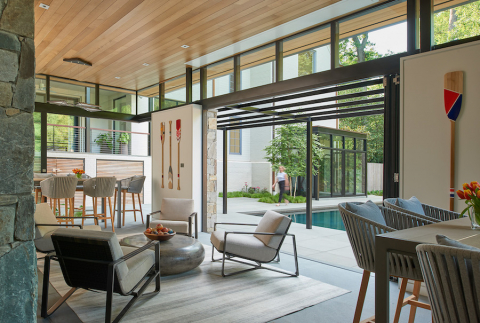 We love to use outdoor rugs to help soften and define spaces. They work wonders! Seating should be comfortable and accommodate the same numbers that an outdoor dining area does. Dining/bar dining chairs should always be comfortable.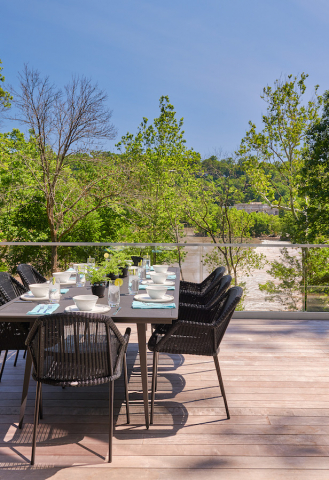 It's important to mix furniture from different vendors or at the very least different styles from the same vendor, otherwise your outdoor spaces tend to look like a furniture showroom. Chaises are classic but more people are interested cabanas these days. Invest in a really good umbrella for shade. The base needs to be heavily weighted. I'm a big fan of the rectangular cantilevered type. This porch photo with a fireplace has a rustic Chinese inspired coffee table with very contemporary seating. It keeps it interesting.
DISH: What do you look for in outdoor textiles? VICAS: In covered spaces, you have a lot more leeway on fabrics and cushions. When cushions are completely open to the elements, it is important to invest in really good ones that have a special type of filling that is called reticulated foam. It allows water to flow through and not get waterlogged. There is nothing worse than going to sit outside on a beautiful day just to discover that it rained the night before and the seats are soaking wet.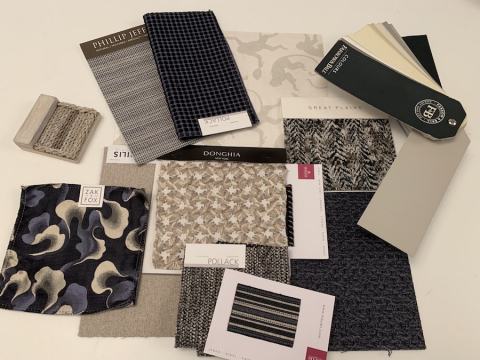 Outdoor fabrics are amazing these days and come in almost unlimited colors, textures and patterns. We are using them inside often. They are bleach cleanable regardless of color. Believe me, my clients have all had experiences where they have had to test the manufacturer claims! DISH: How do you add visual interest throughout the outdoor areas? VICAS: Throw pillows creates the mood and adds punch and excitement or elegance to the space. Lighting is critical for atmosphere. Candles, hurricanes, lamps on porches. It's just as important to layer lighting outside as it is inside.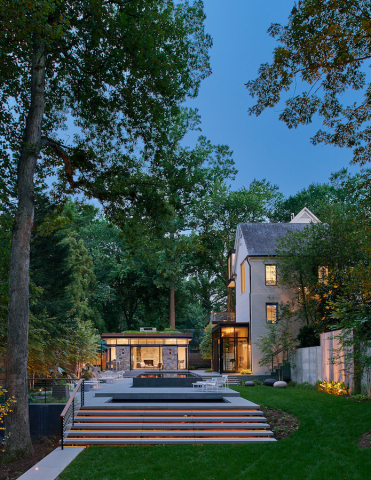 Fireplaces and pits extend the season to nine months in DC, and we love them! I defer to the experts on landscaping but I think that using flowers, potted plants and trees in covered and uncovered locations completes the look.
*/