Dig With Tudor Place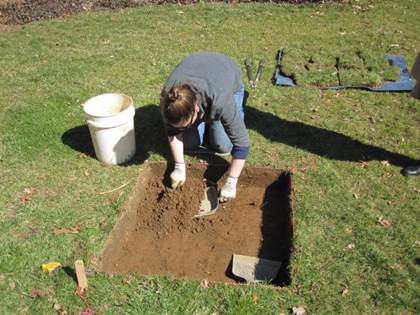 Tuesday, August 25, 2015 from 11:00 am until noon, Tudor Place will be doing an archaeological excavation outside of the Dower House (Administration Building). This portion of the property is largely unexplored, but was part of the original tract of land purchased by the Peter family in 1806. The project will give our Preservation staff more insight into early uses of this northern portion of the property.
Join Director of Historic Preservation Jessica Zullinger for a presentation and personal conversation to learn more about the archaeological work being done at Tudor Place and for a tour of the current dig site. Objects discovered during previous excavations will be on view!
Tudor Place relies on grant-funded excavations undertaken by archaeologists knowledgeable in the material culture of the Mid-Atlantic and Chesapeake region. This work is critical to better understanding and interpreting this National Historic Landmark.
Due to the size of the excavation site, space is limited. Registration required.
This program is free to members of all levels. Membership at Tudor Place includes invitations, behind-the-scenes access, and name recognition. Learn more.
Questions about this event or prefer to register offline? Email or call Felice Herman at 202.580.7321.