Developers Revise Plans for Prospect St. Retail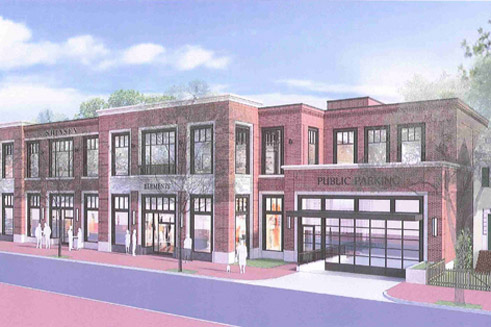 By Brady HoltCurrent Staff Writer
Developers of a new retail building on the site of a Prospect Street parking lot have revised their design based on feedback from the community and the Old Georgetown Board.
McCaffery Interests showed off the latest iteration of its planned two-story building at Monday's Georgetown advisory neighborhood commission meeting, where it was favorably received by commissioners. The project at 3220 Prospect St., dubbed Prospect Place, also includes about 100 underground parking spaces to replace the present 84 surface spaces.
Architect Kevin Sperry said his redesign addresses the three main points raised by the Old Georgetown Board, which oversees all projects visible from the street in the federally protected historic district. Specifically, the board took issue with the building's transition from commercial buildings near Wisconsin Avenue to residential stretches of Prospect Street; its proportions and window sizes; and its facade materials.
The latest proposal has smaller windows separated with brick rather than metal bands, new articulation that emphasizes four individual storefront bays rather than a single flat surface, and a smaller garage entrance abutting a residence to the west.
Overall, the changes are intended to make the 27,600-square-foot building look less like one large box. "We got rid of any single horizontal line that would have ended up connecting it all together," said Sperry.
To the west, the garage entrance is now set back an extra 13 feet compared to the rest of the building, and it's only one story. The second story is pushed back 12 feet farther to be even with the adjacent house. It's also only about two or three feet taller than the house, Sperry said.
In general, the neighborhood commissioners had few complaints.
"We like the direction in which the project is going in terms of scale and glazing and materials," said commissioner Tom Birch. "You've done all the right things."
Commission chair Ron Lewis asked the project team to consider making the roof of the new building even with the adjacent house, at least in the garage section. And commissioner Bill Starrels, whose single-member district includes the site, asked the developers to ensure that their loading plan doesn't allow trucks to idle along Prospect Street.
The Old Georgetown Board will consider the project at its meeting tomorrow, its second review of Prospect Place.
In an interview after Monday's meeting, Juan Cameron of McCaffery Interests said he still hopes to break ground on the project in late 2015, but a lot will depend on the review process. "It's fluid right now, but we're getting closer to something that's workable for everyone," he said.
Construction is expected to take 14 to 15 months.
This article appears in the Nov. 5 issue of The Georgetown Current newspaper.