Developers Drop Plans for Latham Apartments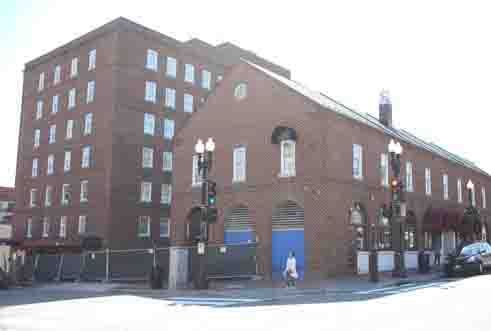 By Brady HoltCurrent Staff Writer
A local developer has attracted significant attention for ambitious plans to create several hundred "micro-unit" apartments in three high-profile Northwest locations. SB-Urban has said its premium furnished units will attract affluent young people who have newly arrived in D.C. and value transit accessibility.
But the company is backing out of one such location — Georgetown's Latham Hotel at 3000 M St., the first site SB-Urban purchased to build its "urban suites" micro units. Officials told the local citizens association on Friday, and the firm's Mike Balaban confirmed the plans to The Current on Monday, saying SB-Urban will list the site for sale in the near future.
The firm's two other "urban suites" micro-unit projects, in Blagden Alley and on Dupont Circle, are still on pace to begin construction within a few months, he said. "Literally the other two projects are [collectively] about the same investment as the Georgetown project, and we have in fact decided that we should prioritize and focus on the two other smaller projects," Balaban said.
SB-Urban purchased the Latham site for $45.4 million in November 2013, and set about obtaining various approvals for its complex and unusual plans. The firm wanted to convert the old hotel building into about 140 rental units of about 330 square feet apiece, which would be augmented by shared living spaces in the hotel's underground parking garage. The project also would have entailed razing and replacing some deteriorating M Street retail storefronts.
The Old Georgetown Board ultimately approved the plans from a historic preservation perspective, and the Board of Zoning Adjustment OK'd the proposal to move forward without the 94 parking spaces that such a project would usually require. Developers worked with the local advisory neighborhood commission and, in particular, the Citizens Association of Georgetown on both the project's design and an alternative transportation plan that included making 42 off-site parking spaces available to tenants.
"We found them good to work with and reached something that we thought was advantageous to both sides," association president Bob vom Eigen said in an interview. "So we're disappointed to see after all the work that was done, they're not going to go through with it."
Balaban also praised "the quality of the dialogue with the community in Georgetown." But in addition to SB-Urban's plans to focus on the other two micro-unit projects, he said another factor in the decision is that there's likely to be broader interest in the Latham Hotel site than when the firm purchased it nearly two years ago.
"At the time we acquired the site, the hospitality market in D.C. was quite depressed, and that has now long since changed," he said. "It's now a very strong market that's very actively being sought by investors and operators from literally around the world."
Balaban added that Georgetown is also in great demand for multifamily and commercial use, so investors in those projects may also be interested. "We think it's a great site and something great will come of it," he said.
Vom Eigen said he wasn't prepared to talk about hypothetical future proposals for the Latham site, but he said a hotel that retained its underground garage — rather than converting it to other uses, as SB-Urban had planned — would mitigate the community's parking concerns.
As for SB-Urban's other two projects, which also don't have on-site parking, Balaban said all approvals and permits are in hand. The first project to begin construction will be at 15 Dupont Circle, where 92 units will go into the historic Patterson Mansion, with a new addition behind it; Balaban said work will begin this summer or early this fall. In Shaw, the company will break ground soon afterward on a pair of new buildings at 90 and 91 Blagden Alley. Balaban said both should be open in late 2016 or early 2017.
As for the timing of the Latham sale, Balaban said: "We have engaged a broker and we expect it to be on the market sometime soon."
The article appears in the July 22 issue of The Georgetown Current newspaper.