Detox? Cleanse? Jumpstart? Where to start?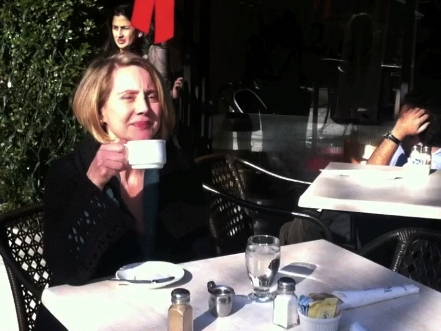 I'm upset by my holiday bloat! But I'm thankful I've already lost 3 pounds. How did I do it? Here are some things to consider when deciding how you should lose your "2011 pounds" to help you get 2012 off to a healthy start…
A new client shared a familiar story with me. Sarah, who has struggled with her weight for years, had just spent a week at a health spa, successfully losing three pounds. But within a few days of returning home, she had gained all of her hard-earned weight loss back – and more. She felt so desperate, she was considering a 21-day "cleanse," but was fearful severe dieting would backfire again and wanted my advice.
Her fears were well-founded and illustrated the most frustrating dilemma of dieting: Weight loss is exhilarating, but too often the results are fleeting.
This struggle has been going on as long as people have been looking for quick-fix, formulaic diets. In the 1970s, it was carb-counting with Atkins or Scarsdale. The 80s brought us liquid diets (remember Oprah and Optifast?). In the 90s, low-fat diets were the rage. Then we came full circle with low-carb diets returning in the 2000s and the modern equivalent of liquid diets – "cleanses" and "detoxes" – back today.
But the challenge remains the same: You cannot "diet" forever. At some point, you must transition from the "diet" to an eating plan and lifestyle which maintains your weight and health.
A "Cleanse":
Sarah said it would be such a relief not to have to think, or make choices, and so rewarding to lose weight quickly. I completely understand the temptation here. And these factors do make weight loss with a liquid diet easier for many people. But I encouraged Sarah, "Ask yourself: Will the weight loss stick? Yo-yoing can be demoralizing." Though I agree it is better to try something than to stay overweight, unhealthy and feeling miserable.
If you decide to go all the way and try a "cleanse" or very low calorie diet plan, you probably will lose weight. It's a fact: when you eat fewer calories than you burn, weight loss is a consequence. And even a liquid cleanse, if short term, shouldn't be harmful. (Though some people experience constipation, nutritional deficiencies, headaches, depression/irritability, hair loss.)
But since by definition this is temporary, be prepared to transition slowly to healthy eating (go too fast and you're liable to gain a lot of water weight).
The Transition:
A second option would be to start with the healthy lifestyle that you would be transitioning to. Lose weight in a sustainable way so that when you've lost it, the good habits are in place. I probably don't need to tell you this is my choice, and it's successful for the majority of people.
Based on studies of successful weight loss maintainers, here is what you should do to keep weight off once it is lost:
Live at a spa. Not practical? Okay, create a "Home Spa" to jump-start 2012 and feel as good, if not better, than you would being on a liquid "cleanse." Do…
· Minesweep for Calorie Bombs– Banish any "risky," fattening or unhealthy foods from the house,
· Control Your Environment- Stock your home (and office) with delicious, healthy foods, and piles of clean, chopped, ready-to-grab fruit and veggie snacks,
· Start Every Day with Physical Activity– Don't even think about it! Before checking email, taking phone calls, or applying make-up (I know – I'm horrible!), get out the door for a walk, jump on your home treadmill, go to boot camp or to the gym,
· Eat Breakfast Every Morning – Preferably at home, so you're not tempted by the bagel the size of your head at the office,
· Eat Light at Night – Soup is ideal for feeling satisfied with fewer calories so you don't go to bed feeling too full. Wake up hungry for a good breakfast in the morning,
· Sleep at least 7 to 8 Hours – Sleep disturbances are correlated with weight problems
For more information, contact Katherine Tallmadge.
Katherine's "Cleansing" Veggie Soup
(excerpted from "Diet Simple: 195 Mental Tricks, Substitutions, Habits & Inspirations," LifeLine Press, 2011)
This may not be considered a genuine "cleanse" but that's good! It contains real food you can actually chew! It's delicious, satisfying, loaded with nutrients and is naturally fiber-rich for natural "cleansing!"
10 to 12 - 100 calorie servings
4 Quarts Defatted Chicken Stock
1 Large Can of Tomatoes with Juice
2 Parsnips
1 Large Potato
5 Carrots
1/4 Large Cabbage
2 Stalks Celery
1 Medium peeled Onion
1/2 tsp butter or light margarine per serving (optional)
Bouquet Garni: 1 Large Clove Garlic
4 Sprigs of Fresh Parsley
2 Sprigs of Fresh Dill
Cut all of the vegetables into bite size pieces. To make the "bouquet garni," place the garlic, parsley and dill in a cheese cloth, tie with a string. Put vegetables and bouquet garni in the chicken stock and simmer until potatoes and carrots are soft - about 40 minutes.
When serving, garnish each bowl with 1/2 tsp of butter or light margarine.
Written by Katherine Tallmadge, MA, RD, LD