Desserts to heirlooms, rare glimpse of the White House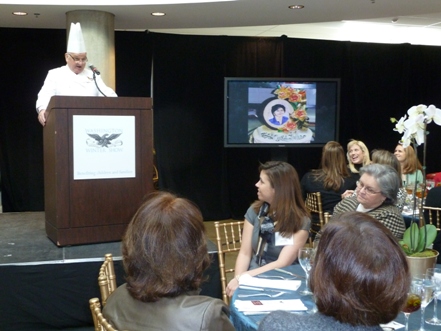 Sharing First Family anecdotes and culinary preferences, Roland Mesnier regaled guests with his quick wit and exquisite desserts. Featured speaker at the 2012 Washington Winter Show luncheon, pastry chef to five presidents, French-born Mesnier began his career at age 12, working his way to the White House via world-class hotels including London's Savoy. Now a culinary writer (the proceeds of his latest book, A Sweet World of White House Desserts benefit the White House Historical Association), Mesnier could have a new career as a stand-up comic.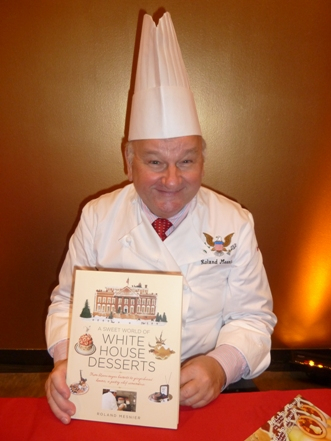 Affectionate about all his former employers, Mesnier remarked that each First Family came with their own special recipes. "The Carters' cheese ring was stinky." As laughter died down from the elaborate description, he explained," Mrs. Carter wanted it served at every meal. We kept bringing out the same one."
With careful food tasters, no White House gifts ever reach the First Family. Instead, they are promptly sent to the kitchen to be tossed. A package from the Kremlin was so enticing Mesnier declared, "I'm willing to die." Two large tubs of the finest caviar did not go to waste. "Thank you, Mr. Gorbachev."
With more than a twinge of nostalgia, Mesnier noted, "People used to dine. Now they go out to eat. In future, they will weigh you when you go in, again at the end of the meal, and charge you for the difference."
"Us Californians don't eat cheesecake, "Nancy Reagan let it be known. On one luncheon occasion with no notice, the only dessert in the freezer was a cheesecake. Promptly disguising it with orange icing and whimsical fruit decoration, Mesnier dubbed it "Cream Cheese Floating Island "and it soon became a house favorite.
About President Clinton, "Four or five pork chops didn't scare him." A special Texas-style dessert dubbed "Tumbleweed" was created for George W.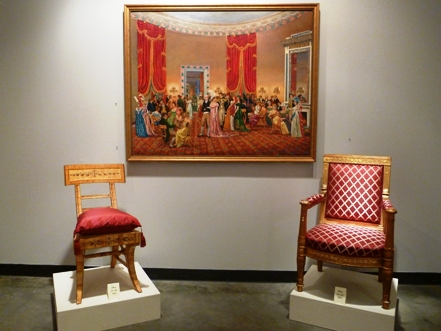 The centerpiece of this year's show, "Treasures of the First Families" includes rare personal objects of fine and decorative art, as well as costumes.
Known for their lavish entertaining, President and Mrs. Madison are depicted in "The Splendid Mrs. Madison," oil on canvas, by Peter Waddell, 2010 (Courtesy White House Historical Association). The painting is shown above behind two Monroe side chairs. The one on the right, by Pierre-Antoine Bellangé was later purchased by the Galt family, Washington D.C. jewelers.
The chair was eventually given to Matthew Galt's widow, Edith who married Woodrow Wilson and the chair was once again used in the White House.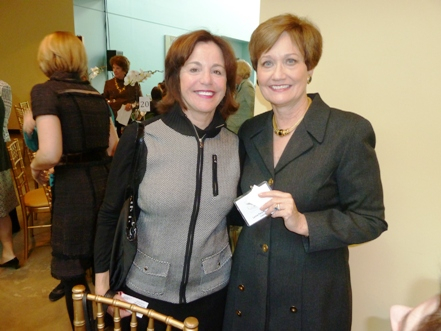 Floral diplomacy, the subject of former White Florist Nancy Clarke's first book, Thirty Years of Flowers, Six First Ladies, was made available for purchase along with Roland Mesnier's dessert book.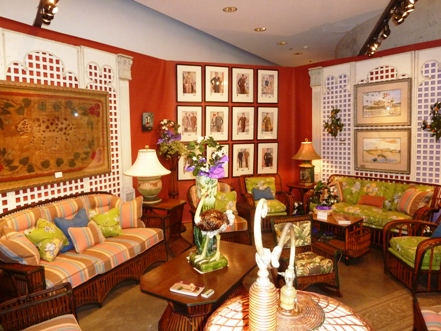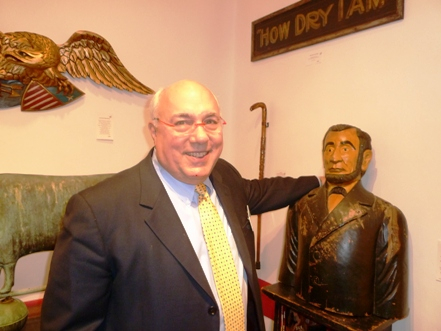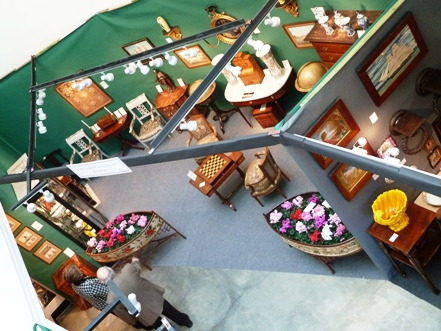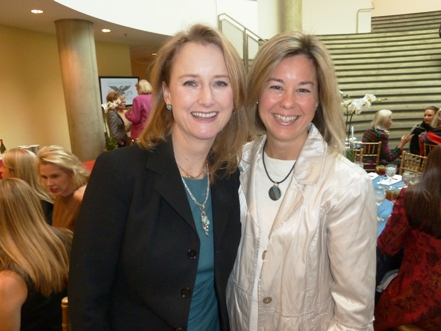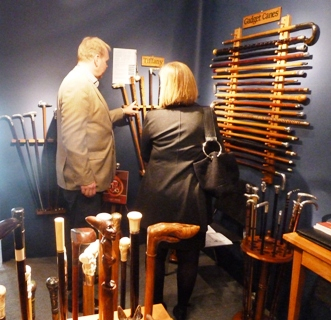 On three levels of American University's Katzen Center, 45 distinguished antique dealers display their collections and answered questions over the weekend. Show events included a sponsors, benefactors and designers reception, appraisals and a jazz band.
Contact Washington Winter Show for more about this annual event and the charities it benefits.