Designer Digs Headline 83rd House Tour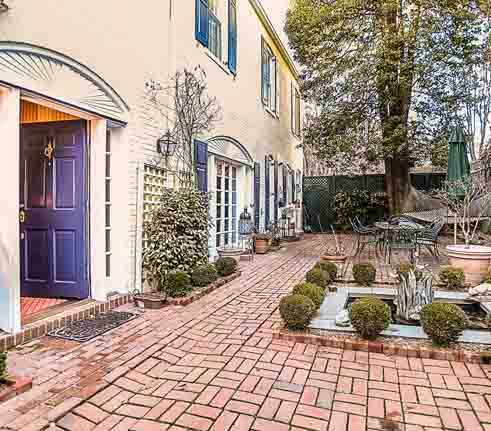 By Kat LuceroCurrent Staff Writer
Georgetown is widely famous for preserving its 18th- and 19th-century dwellings. While many share the same architectural ilk — Colonial, Federal, Victorian — their stylish interiors reflect residents' varied tastes and lifestyles.
Visitors can walk through some of these dapper residences at the annual Georgetown House Tour this Saturday from 11 a.m. to 5 p.m.
"It provides a unique glimpse of Georgetown's impressive architecture and the stories behind the bricks and mortar that make Georgetown so special," tour co-chair Barbara Wolf said in a statement.
In its 83rd year, the event will feature eight houses that have undergone renovations but retain the classic appeal of historic Georgetown. Some owners have revealed their international and artistic flair, while others prove that a family-oriented home can be just as stylish.
The ninth property on the tour belongs to The George Town Club at 1530 Wisconsin Ave. In the past year, operators of the dining and social organization enlisted interior designers Andrew Law and Debbie Winsor to renovate the building's interior but still keep intact historic architectural features of the 18th-century structure. The building — which was last renovated decades ago — is best known as the likely meeting spot of President George Washington, surveyor Andrew Ellicott and architect Pierre L'Enfant as they discussed plans to develop what is now Washington, D.C.
Elsewhere on the tour, some of the artistic-inspired residences include a semidetached 34th Street home that owners Soula Proxenos and Bruce O'Brien adorned with their personal craftwork and international art collection. Most of the main level is filled with cabinetry and furniture hand-crafted by the couple.
Farther down O Street, local interior designer Linda Battalia created the "ambience of a Paris apartment" inside her town house. The open layout directly flows into the spacious rear garden, which features a croquet lawn, water fountain and seating area. Landscape architects Fritz & Gignoux designed the attractive outdoor space.
Another designer, Ann Goodman, took charge of decorating her own O Street dwelling. Through a major renovation, Goodman unified the kitchen, family room, brick patio and garden, picking an "English library" theme for the open layout.
Carrington and Jack Tarr furnished their brick home on P Street with several treasures found at the neighborhood's antique shops. Local designer Elizabeth Hague aided the couple, who also showcase artwork from Nantucket, where they first met.
The family's updates of this mid-19th-century home included expanding the kitchen and creating a natural flow to the rear gardens. An indoor pool was also transformed into a family room, while a playroom was added in the bottom level for the Tarrs' three children.
Another family-friendly residence is Claire and Tony Florence's P Street abode. When they purchased it four years ago, they built a small theater room on the bottom level. They also added New England-inspired white beadboard cubbies to accommodate their four children's sports equipment.
Tickets for the tour can purchased online, or on the day of the tour at St. John's Episcopal Church at 3240 O St. The cost is $50 per person before Saturday and $55 on the tour day, including admission to the traditional parish tea gathering in the church's Blake Hall. For details, visit georgetownhousetour.com.
This article appears in the April 23 issue of The Georgetown Current newspaper.