Design Panel Faults GU Athletic Facility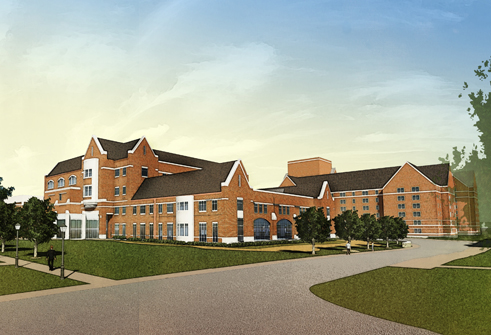 By ELIZABETH WIENER Current Staff Writer
Five years after Georgetown University won zoning approval to build a new athletic facility, the project is still mired in design review.
The U.S. Commission of Fine Arts last week refused to support the tentative massing and architectural style of the 122,000-square-foot building, with one member suggesting a return to a plan previously rejected by the Old Georgetown Board.
The pingponging back and forth between design review bodies is not unusual, but it clearly frustrated architect William Gridley, who had asked the federal panel to vote conceptual support for his plans in advance of a D.C. Zoning Commission hearing this Thursday.
"A lot of this comes from the Old Georgetown Board," Gridley told its parent panel, the Fine Arts Commission. "They told us to shrink the building footprint and raise the height."
"I don't like the massing," said commission member Witold Rybczynski, a noted architect.
"It feels weird that a great big gym doesn't look like a great big gym," said member Edwin Schlossberg, another architect.
A university spokesperson said she hopes the Zoning Commission will endorse the modified plans for a project it first approved in 2007, even as the design continues to evolve. "This is all an expected part of the iterative design review process," said spokesperson Stacy Kerr. She said the university appreciates "the thoughtful input" from the fine arts panel on the facade design.
Georgetown originally proposed the new "athletic training facility" as part of a 2000-2010 campus plan. To be sited on the southwest quadrant of the campus, replacing tennis courts east of the old McDonough Arena, it would have two full basketball courts (one for women and one for men), weight rooms, lockers, equipment and sports medicine rooms, team meeting space and more.
School officials say the new facility is critical to meeting a modern university's athletic needs. The McDonough gym dates to 1951, when Georgetown had only nine teams. Now there are 29, and colleges today compete to provide state-of-the-art sports facilities for recruiting and training athletes, as well as to accommodate the vast growth of women's sports.
But after winning zoning approval in 2007, the project was put aside as the economy soured. "We put it on voluntary hold," Kerr said. Instead, builders focused on a new business school, now complete, and a science building that will open this summer. "Those were fully fundraised, and we want to do the same for the athletic center," which is estimated to cost $55 million, she said.
"Now that the economy is turning around, we began the [design review] process again," Kerr said. "This is now our top priority."
But not so fast. The Old Georgetown Board has reviewed modified designs three times since last fall, not fully satisfied with the changes. Now, there's a new, last-minute revision, whose massing and siting won tentative support from the board in early April. "We condensed the building to create a smaller, perhaps taller footprint," Gridley said.
The current design includes two two-story basketball courts stacked atop one another on the north side of the building. An "athlete's lobby," with sports memorabilia runs through the facility east to west. Space for lockers, equipment, weight training and offices is largely contained in the lower south side.
The entire structure would be clad in a "collegiate gothic" style found in many other campus buildings – red brick with limestone highlights. "We're still working on the skin," Gridley said.
But that didn't go over well with the Commission of Fine Arts.
"The problem is that the gym, which is a huge, huge thing, feels like it's got residential buildings stuck on it," said member Diana Balmori.
"This is a kind of made-up language covering a shoe box," said Rybczynski. "Could we go back to that first slide?" he asked, referring to an earlier design that the Old Georgetown Board didn't like. "That looks like a gym. A gym is a big box, and you just accept it's a big box. All those gables don't do anything."
Commission secretary Tom Luebke noted it would help Gridley to have concept approval in hand as the project moves through the zoning process. "Could you support the general footprint and height?" he asked the members. "Is there a motion that it's basically in the right place, the basic massing? You're not willing to do that?"
"No," said Rybczynski. "I'm not comfortable approving the massing, when we don't know the architecture."
Chair Earl Powell was getting impatient. "We're just looking at a concept. We're going to see it again," he told his members. But Powell, whose day job is director of the National Gallery of Art, also seemed to side with the critics. "We all agree with some of it," he said. "But it keeps looking like a dormitory wrapped around a gym."
The architect was not happy. "We've been through a process, an extremely interactive process, with the Old Georgetown Board," Gridley said. "We know we have lots of further development to do. We don't want full approval." But he urged the panel to give conceptual approval.
Ultimately, the commission voted for a motion "approving the general location, the disposition of programming," as Luebke summed it up. As to "actual massing and expression," he said, commissioners provided "comments."
The university's campus plan for 2010-2020 is still pending before the Zoning Commission, as neighborhood groups and university officials negotiate.
This article appears in the April 25 issue of The Georgetown Current newspaper.